(Sandals Resorts)- Sandals Resorts' commitment to invest in training and development continues to pay dividends, and one of those reaping the rewards is Victroy D. Arthur, a Grade 3 cook at Sandals Grande St Lucian Spa & Beach Resort. Victroy, a graduate of the Sir Arthur Lewis Community College, entered the highly sought-after Sandals Resorts Hospitality Training Programme (HTP) in April of 2018, topping his cohort as an exemplary team member and becoming a full time employee later that same year.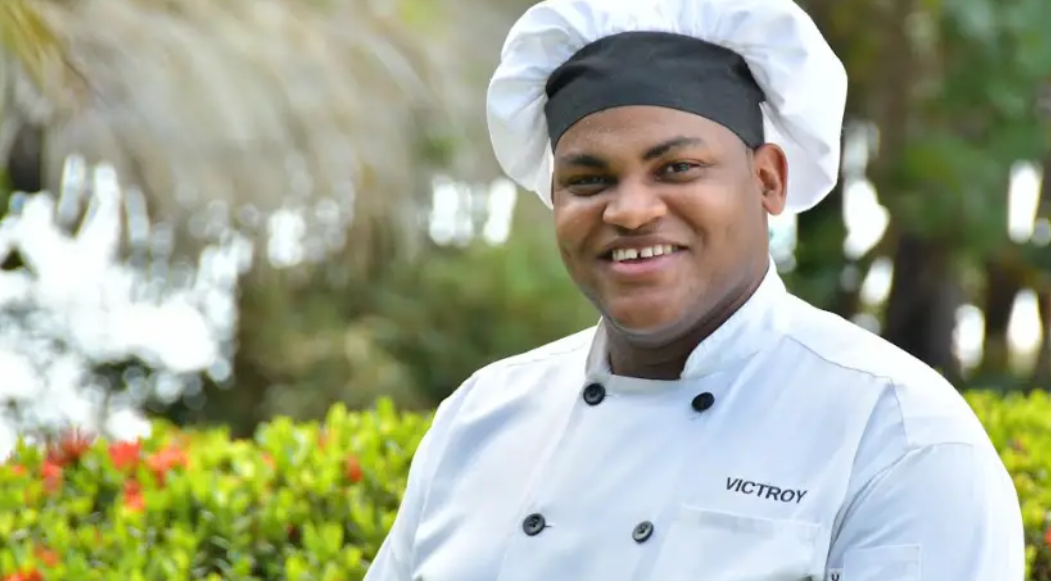 Singled-out as a youngster with a strong willingness to learn everything he could, Arthur came on board and enthusiastically gave it his all. "I was respectful and never lost my cool, remaining calm and tried my best to learn as much as I could. It was interesting because I did not know much about cooking on a professional level but I grabbed the bull by the horns and worked to absorb as much as I could in this field."
Currently Arthur works in the Barefoot by the Sea Kitchen and enjoys speaking with guests about their culinary experiences. But while food is his first love, Arthur harbours other passions as well, such as environmental science, and was thrilled to learn that he was actually encouraged to pursue his interests by his Sandals family.
"Somewhere in the future, I am interested in pursuing a degree in environmental science and if the opportunity arises after my studies, I would like to pursue this field at Sandals.  I am confident that no matter my area of study, there can be a place for me within the Sandals family.  I hope it is in the area of environmental science as the company has a very robust Environment Health and Safety (EHS) Department."
In fact he has become an active member within the EHS department, and has won the Earth Guardian award for outstanding service. Although he has not yet explored the opportunity to cross-train in the EHS department, Arthur has grasped the chance to do so in the resort's Public Relations (PR) Department.
"I jumped at the opportunity to work in the PR department because I admire what they do. So far, I am getting a great understanding about the importance of time management and how it can make or break you or the critical activities you are playing a roll in.  I have also learned that Public Relations has so much more to it. It is about engaging a wide cross-section of stakeholders, both for the resort and the company at large.  My boss, Sous Chef Danny Poleon, was able to see a difference when he saw how happy I was to talk to the team members about the benefits of working with Sandals. He saw the passion in me."
Certainly an influencer among his peers, Arthur sees himself as an important link between the resorts' other departments and his kitchen team, where his heart remains despite his dalliances.
"I love pastry. I have been dabbling in making cakes for my friends and family so I use them as my 'guinea pigs' all the time. I am still working to perfect my craft. Of course I love cooking, both savory and sweet recipes."
When asked about the most important thing he has learnt during his time at Sandals he replied, "My thick skin is developing as I am learning how to deal with high energy and high pressure. I am still actively trying to communicate effectively and work as a team, to harmoniously get the job done. It is really about learning from everyone regardless of age, and being open and listening to ideas. I think a center of calm is essential in the kitchen, because as a cook, I am part of a team feeding people on time every day; people with allergies, or just people who want regular meals, and in different restaurants. At Sandals, we are problem solvers on demand."