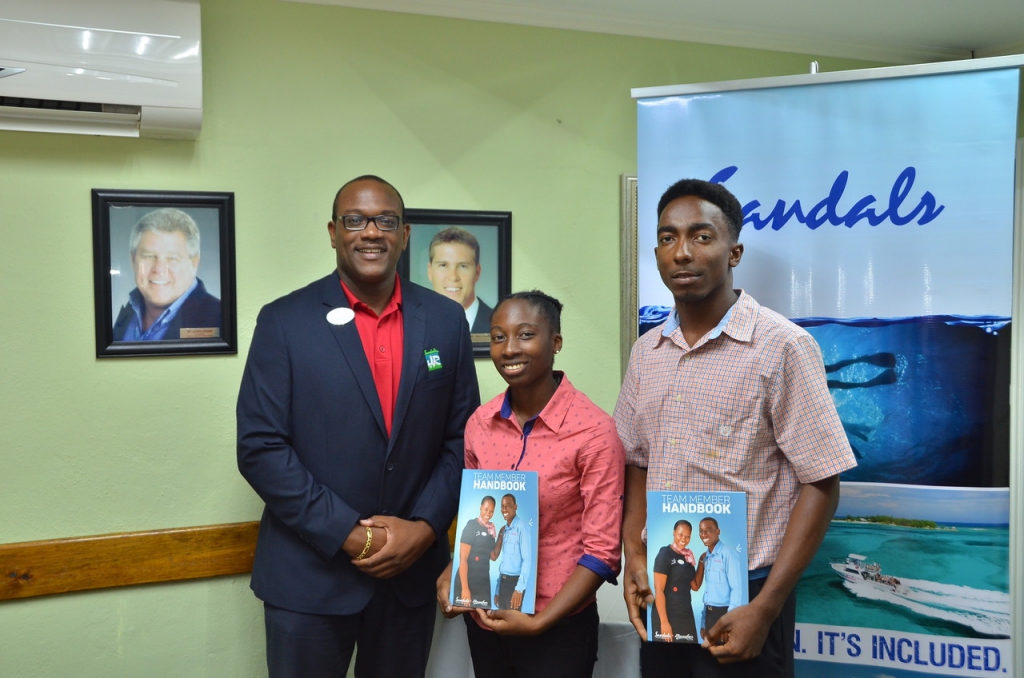 Staying true to its commitment to enhancing Caribbean Hospitality and Tourism, Sandals Resorts continues to fortify the region's human resource capital with internships and exchange programs that allow for scores of human assets to develop and explore.
The latest in this undertaking was yet another appointment of two newly graduating hospitality professionals from the Sir. Arthur Lewis Community College (SALCC) who have been accepted to into the resort company's internship program overseas.
Selected were Kerraul Morgan and Shane David who will both be departing their home shores for programmes in Grenada and Barbados, respectively.
Regional Group Manager for Human Resources and Training Ryan Matthew said the program is one that truly underlines the importance of developing Caribbean people – a long-time focus of Chairman of Sandals Resorts International Gordon 'Butch' Stewart.
"Our Chairman's wish is to continue to push the envelope both in human resource development and the overall Caribbean product," Matthew said during a brief sit-down with the two at Sandals Halcyon recently.
Together, they form part of scores from universities around the world who will scatter throughout the Sandals group to undertake the practical side of professional development.
"The essence of hospitality is embracing different cultures. Bonds of friendships are forged in this programme that transcend continents and borders," the group HR manager said.
The internship programme runs for six months and exposes participants to the inner workings of hospitality management across all departments.
Kerraul Morgan, who heads off to Grenada, will be exploring her industry potentials in the Restaurant, Front Office and Club Sandals (Concierge), while Shane David will be sharpening his skills in world-class specialty restaurants with direction from specialty chefs.
"Your future begins now," Matthew said as he presented the two with their official Sandals Employee Handbook.
"Share as much as you want to learn," he added, "and be sure to enjoy the new islands and cultures responsibly."
Matthew reminded the two that they are now official hospitality ambassadors of Saint Lucia and the Sir Arthur Lewis Community College. He urged that they do not take that responsibility lightly and endeavor always to exceed expectations and return home with knowledge enough to teach and an attitude that exemplified that standard in international quality they were exposed to.
The Saint Lucia interns will begin their program in August.