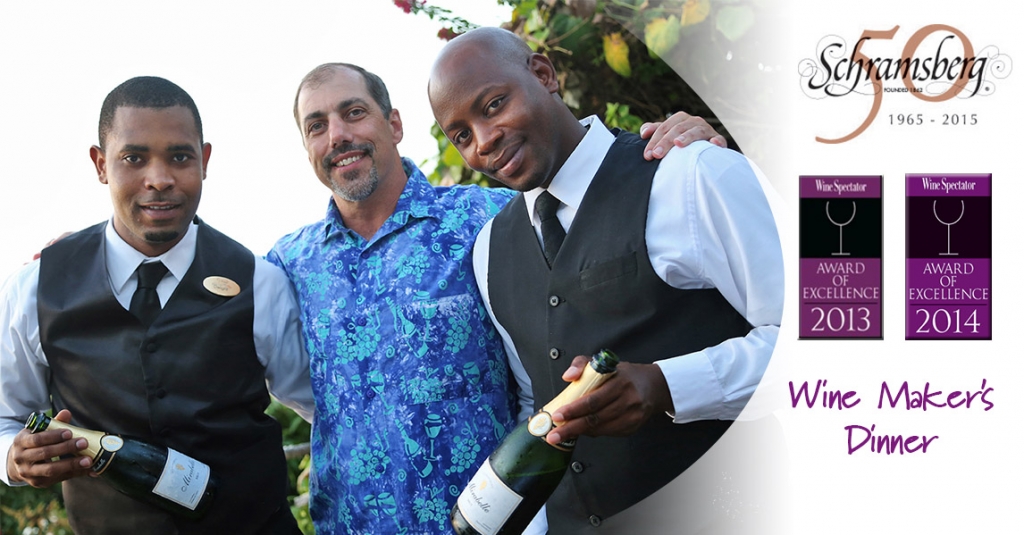 Monday May 25th marked the first of many elegantly delivered Schramsberg Wine Maker's Dinner events.  This exquisite five course wine paired dinner was hosted at 'Kai Manje' Ti Kaye Resort & Spa's Wine Spectator award winning restaurant.  It was a fantastic experience for the team at Ti Kaye to have been able to work with our valued sponsors; Schramsberg, Crown Foods and Barbay Ltd in creating a fine dining experience for our specially invited guests.
The dinner featured a five course meal paired with 6 selections from Schramsberg; 2012 Blanc de Blanc, 2011 Blanc de Noir, 2006 J. Schram, 2011 J. Davies Cabernet, 2011 Cremant and with the Mirabelle Brut being served at the reception.  Working alongside Fred Zammataro (EVP, COO & CFO of the Schramsberg Winery in Napa Valley, California), the menu was created by Executive Sous Chef Gary James and his culinary team in collaboration with internationally trained Sommelier Cleus Charles, Wine Steward Dwight Berthier and F&B Manager John O'Shaughnessy.
Mr. Zammataro, master of the ceremony, graciously delivered an introduction to each wine from the Schramsberg collection, America's House of Sparkling Wines.  A producer of world-class sparkling wine since 1965 each Schramsberg vineyard provides a variety with the perfect balance of fruitful aromas and flavors, along with a delightful crisp acid backbone, all of which are required to produce these stunning sparkling wines. Its detailed process of wine fermentation in its historic caves is a testament to the quality and dedication that has come to be expected by sparkling wine lovers. Mr. Zammataro's descriptive conception of each wine was filled with light humour and passion which made the evening a highly enjoyable one.
Other sponsors included Crown Foods Ltd. a Saint Lucian owned food specialist and the premiere wholesale supplier of quality frozen meat and seafood on the island.  Crown Foods have been the supplier to many of Saint Lucia's top hotels, restaurants, luxury yachts and villas with the finest quality frozen & chilled foods and gourmet provisions.
With a large and varied inventory that includes USDA Prime and Choice cuts of meats, seafood, vegetables and the only certified Angus Beef licensed food service distributor.  Ti Kaye's culinary team was able to work with some of the best local ingredients for appetizing plates such as local red snapper ceviche, Jasmine tea smoked chicken breast and a six hour braised short rib beef, accompanied with infused caramelized onion polenta – perfectly paired with the 2011 J. Davies Cabernet.
Special partnerships with Barbay Ltd. one of Saint Lucia's major distributors of local and imported products, as well as suppliers of wines to hotels and other food industries also contributed to the success of this prestigious wine event.
General Managers Chris Relf  & Sarah Watts, along with Owner Nick Pinnock deemed the evening to be "a truly sparkling event"! They went on to say "… we were delighted that Fred and his wife Cheryl could take time out of their busy schedules to spend a few nights at Ti Kaye and present our first (of hopefully many)  'Wine maker's dinner's'.  The food and wines were just superb, and all presented with an elegantly casual, but fun ambience – not usually synonymous with wine events. It was so good that we've decided to make the Mirabelle Sparkling wine our Ti Kaye house sparkling wine, and continue to run 5 course wine paired dinners using the same amazing local ingredients and fabulous Schramsberg wines".
About Ti Kaye Resort & Spa
Set on a cliffside in the secluded cove of Anse Cochon, one of the definitive natural beaches and snorkeling bays in Saint Lucia  (and chosen by experts in 2015 as one of the Top 10: Caribbean romantic holidays*). This boutique resort consists of only 33 private cottages all built in the typical gingerbread Creole style, providing the ultimate place to go for stunning views and sunsets across the Caribbean Sea. Ti Kaye also boast amazing personable staff, incredible Spa treatments in the natural open-aired Kai Koko Spa (voted # 9 in the Top 10 :the best spa hotels in the Caribbean*), and superb wines in our 500+ bin underground 'Ti Kave wine cellar' offering daily wine tastings. The cuisine prepared by the culinary team in both the Wine Spectator award winning Kai Manje restaurant, and the Ti Manje beach restaurant is a collection of original and indigenous Caribbean dishes utilizing local produce and exotic edibles. *Source UK Telegraph