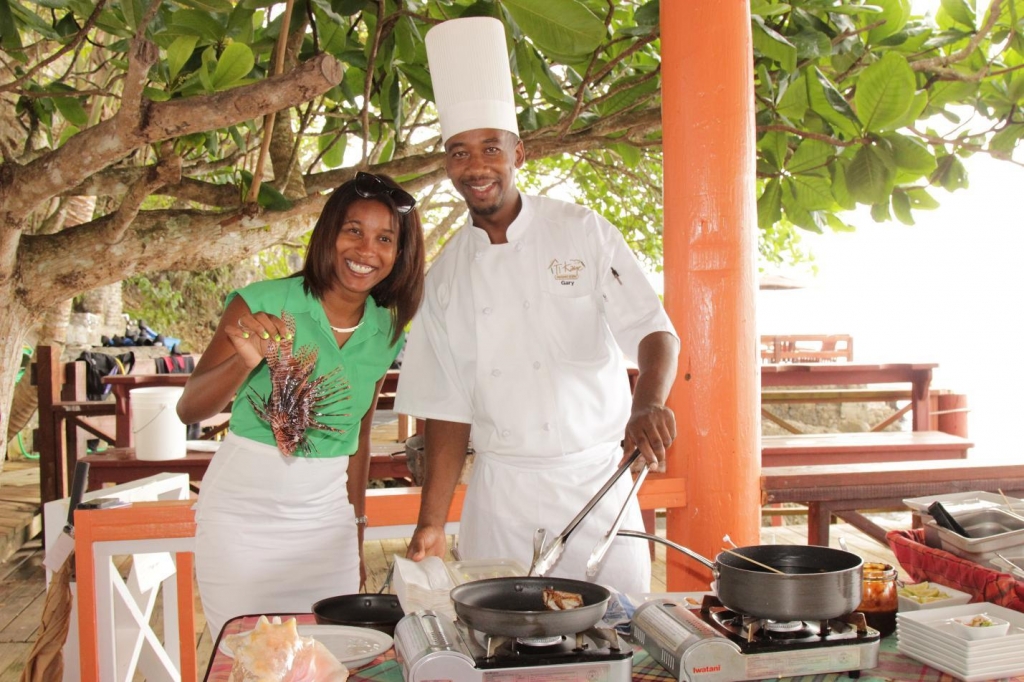 For the second consecutive year Ti Kaye has become a dedicated participant of the annual Earth Day celebration, an international initiative for green lovers around the world to share their pledges and acts of green.  Earth Day is an ideal opportunity to show others through education on how they too can play their part on saving and caring for our planet.
April 22nd, 2015 Ti Kaye organized an array of activities that both staff and guests could get involved in to observe Earth Day.   To kick start the morning a lionfish derby was organized with their very own dive shop 'Island Divers'.  Lionfish were caught around the West coast of Saint Lucia, which is home to many tropical reef fish and coral.  The history of lionfish to date is that it is an invasive species that has no predator and produces poisonous venom on its needle like dorsal fins.  However, with much research provided by the Fisheries Department of Saint Lucia it has been identified as a food source for humans when handled and prepared properly.  The dive team caught a total of 12 lionfish for the morning dive excursion.  These lionfish were carefully handled and prepared by the culinary team.  A buffet was set up in their beach restaurant ' Ti Manje' where their Executive Sous Chef Gary offered a " How – to Demonstration" on the proper preparation of this fish species.  A special culinary creation of freshly sautéed, grilled and ceviche lionfish with a side order of Ti Kaye's home grown greens was served complimentary to all guests.
Later that evening the resort hosted a beach manager's cocktail with live steel pan entertainment where an impressive set up of herbs, fresh fruit and spices that are grown organically on property were displayed with edible samples.  A brief presentation was offered by Grounds Manager Michel on the beneficial uses of certain fruits and herbs.  The cocktail party was followed by a candlelit Creole buffet dinner with highlights of Saint Lucian cuisine and local ground provisions.
Ti Kaye remains committed in their daily tasks on the resort to recycle and upcycle where possible using the most environmentally friendly, safe and hygienic methods.  Ti Kaye also participated by registering its green initiatives with EarthDay.org stating their commitment to observe Earth Day at their hotel.  Various acts of green such as tree planting events and beach clean ups were listed in support of the international movement to protect the planet and secure a sustainable future.
In the words of an ancient Indian proverb, "We do not inherit the Earth from our ancestors, we borrow it from our children".