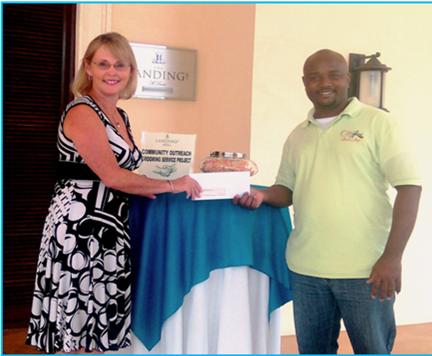 On Monday August 24th, with the intention of 'giving back' to our community, The Landings St. Lucia is pleased to donate to The Community Outreach Grooming Program.  The Community Outreach Hygiene & Grooming Service Project, partnered with Cutty Ranks Barber Shop, provides grooming assistance and instruction as well as hygiene best practices and awareness to young people throughout the communities and school districts.
The Landings St. Lucia is proud to be part of this project and looks forward to building a strong relationship with this and other partners dedicated to supporting the communities.
The Landings St. Lucia, a leading luxury resort in service and amenities, is a strong proponent of charitable, non-profit, and/or community initiatives.  We are proud and privileged to be part of the wonderful island community of St. Lucia and feel that it is our responsibility to assist those who have been so supportive of our endeavours and have ensured that our guests experience the joys of our island.
The General Manager of The Landings St. Lucia, Kathleen Taylor said, "We are privileged to assist the youth of St. Lucia as they are our future. The Landings will strive to maintain our support and show our appreciation and gratitude to the educational system and supporting programs from which we draw our wonderful current and future employees."
The Landings St. Lucia is one of the most renowned luxury destinations in St. Lucia and recently won "Luxury Beach Resort of the Year from Luxury Travel Guide 2015". The Landings experience is all about the St Lucian warmth!