(CASTRIES, Saint Lucia- August 21st 2023)- Ten more secondary school newcomers have received Eileen Paul Scholarships from the Saint Lucia Hospitality and Tourism Association's (SLHTA) Tourism Enhancement Fund (TEF).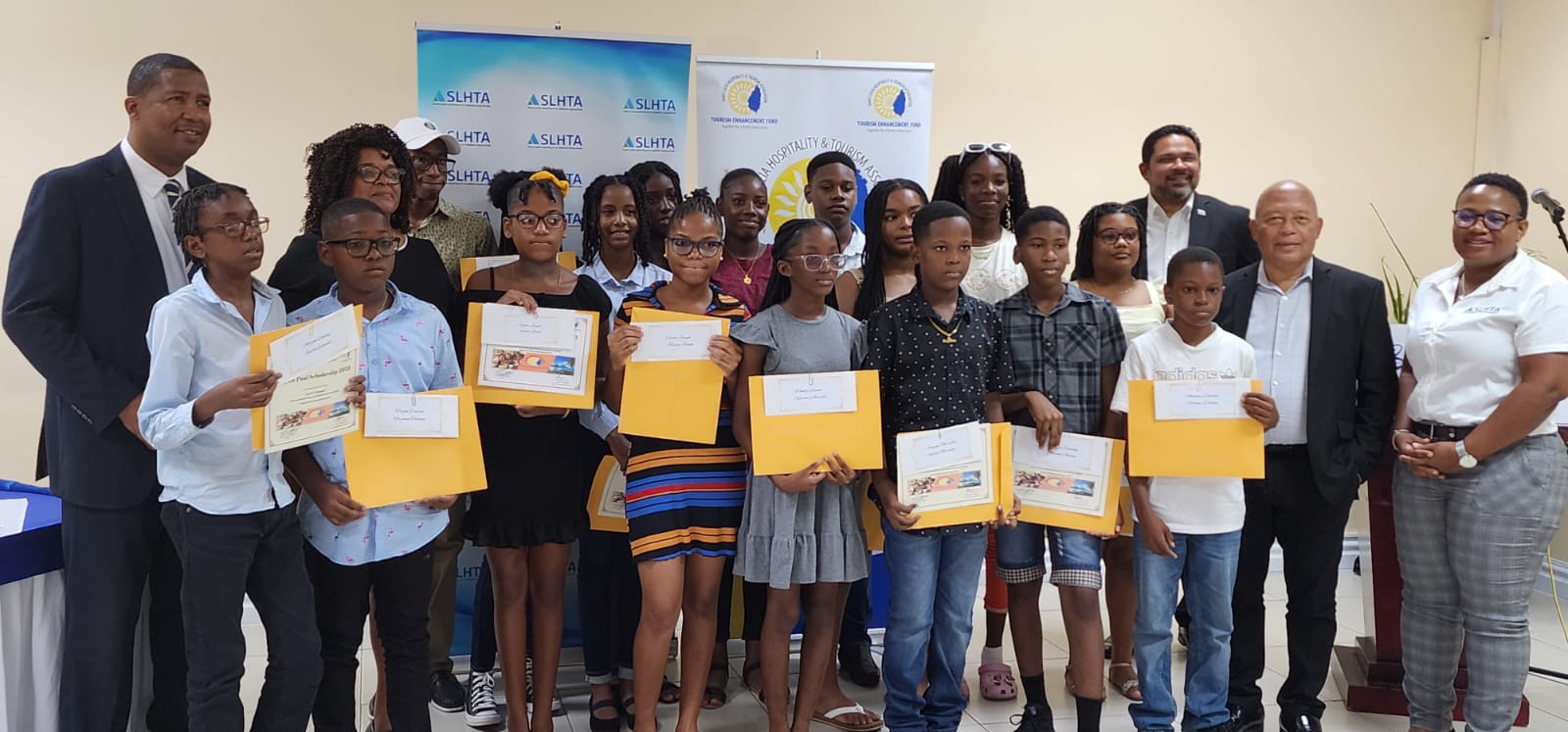 The Eileen Paul Scholarship Fund was launched on October 11th 2021 to provide financial support to secondary school students, whose parents work in the hospitality and tourism industry. The scholarship is named in honor of Eileen Paul, who was the heart and soul of the SLHTA, having served the organisation for over forty years.
Scholarship holders receive a grant of EC$2000.00 annually for 5 years, once they maintain a grade point average of 70%. This year's scholarship award ceremony, held on Thursday, August 17th 2023 at the Bay Gardens Hotel, Gros Islet, brought together government officials, parents and ebullient students.
TEF Chairman Winston Anderson underscored that education is a cornerstone of the TEF's values. By nurturing intellectual curiosity, fostering innovation and providing access to quality education, the TEF is not only enhancing lives but also sowing seeds for a brighter Saint Lucia.
He said, "Year after year we proudly extend our support to ten hardworking students who embody the spirit of dedication and perseverance. This marks our ongoing commitment to education and the continued development of our youth. It also provides an opportunity to support our hospitality sector's dedicated team members who stand on the frontline.
"The EC$2000 annual scholarship serves as more than just financial aid. It is a symbol of our commitment to empowering the next generation of industry leaders. And we hope that it will inspire not only the recipients but other like-minded organisations to invest in similar programmes."
The Chairman lauded frontline members for their invaluable contribution to the success of Saint Lucia's tourism industry. Anderson noted that notwithstanding the island's natural beauty, tourists visit the country because of the warmth and hospitality of our people.
"Congratulations to each and every one of you," he told students. "Your dedication, hard work and commitment to excellence, have earned you this prestigious scholarship. We are excited to witness the impact that you will undoubtedly make in the years to come. The TEF remains dedicated to the principles of progress, empowerment and education. We are very proud to stand by our team members and their families."
For TEF Programme Manager Donette Ismael, the Eileen Paul Scholarship is a testament to the TEF's belief in the power of education to transform lives. Education, she said, is the key that unlocks doors of opportunity, a pathway towards self-improvement and a bridge to realizing one's dreams.
She urged students to understand the gravity of the moment, and encouraged them to embody the values of dedication and service that Eileen Paul exemplified throughout her career. "You have proven yourselves through hard work, dedication and a thirst for knowledge. As you embark on this new chapter of your academic journey, remember that you carry the hopes and aspirations of your families, your community and the future of our nation. Seize this opportunity to excel, to learn and to grow. Use this scholarship not only to advance your studies but also to develop your character, your sense of responsibility and your commitment to making a positive impact on society."
Ismael said that the TEF is committed to fostering education within the tourism industry, and pointed out that EC$100,000 has already been disbursed through the scholarship.  "It would be remiss of me if I did not mention that this financial year apart from the scholarship programme the TEF has invested over half a million dollars in our youth and their holistic development. These initiatives range from after-school programs, psychosocial support and various youth camps island-wide."
Parliamentary Secretary in the Ministry of Education, Sustainable Development, Innovation, Science, Technology and Vocational Training, Hon. Dr. Pauline Anotine-Prospere, encouraged students to put their best foot forward. "Students, the SLHTA has placed a vote of confidence in your ability to make the most out of this opportunity. Relish this blessing! I too have the conviction that all ten of you will excel. You have shown the ability at the CPEA Examinations, and I know you will continue on that path."
She added: "I extend gratitude to the SLHTA and the TEF contributors on behalf of the Ministry of Education and by extension the government of Saint Lucia. This selfless, thoughtful and generous contribution to the education of students in fact assists government in meeting the educational needs of students, as well as assisting parents in this post-covid era. Thank you for your commitment to education in Saint Lucia."
This year's recipients are:
Kaden Marcellin        Soufriere Comprehensive
Emma Joseph        Soufriere Comprehensive
Shavannah Dorville Soufriere Comprehensive
Terrance Dalsan        Choiseul Secondary
Kalis Jn Philip        Choiseul Secondary
Benjahni Hippolyte Choiseul Secondary
Chaison Antoine        St Mary's College
Derwin Clarke        Leon Hess Comprehensive
Earth Edmund        Castries Comprehensive Secondary School
Sasha Regis Leon Hess Comprehensive