Castries, Saint Lucia: November 07, 2014: Opening on schedule this Friday despite weather worries, Dive Saint Lucia is clearly set to become the premier scuba diving centre in the Eastern Caribbean. Patrons attending the November 7th evening ceremony and reception had a firsthand opportunity to experience the state of the art facilities at the spanking new complex just south of the Rodney Bay Marina.
The complex boasts an on-site purpose-built pool where both novice and experienced divers can prepare for the real thrill of exploring Saint Lucia's amazing underwater environment which is ranked among top dive destinations anywhere.
Also included are fully equipped classrooms for land-based lectures and emonstrations, complemented by a fully stocked retail outlet with top-class staff,  remium scuba related brands and all the diving gear anyone may ever need to enter the water. http://www.divesaintlucia.com
The new DSL facility is LEED Certified for achieving high efficiencies in resource use, energy consumption and health and safety of standards. LEED stands for green building leadership and is transforming the way people think about how buildings and communities are designed, constructed, maintained and operated across the globe. http://www.usgbc.org/leed
DSL's high visibility waterside location in the heart of Saint Lucia's tourism belt is strategic to its product offering which aims to be the best scuba training and dive experience possible. The location which will be fully operational from Monday, is designed to allow patrons to walk in, get trained, buy gear and sail off on one of two dive boats docked alongside.
DSL's dive boats are tastefully appointed, outfitted to world-class safety standards and spacious enough to comfortably accommodate up to 30 divers. Each boat sails fully stocked with refreshments.
DSL is a PADI 5-Star Instructor Development Centre (IDC), as rated by the Professional Association of Diving Instructors, the world's largest and most popular diver-training organization. The global leader in the scuba industry, PADI has instructors and facilities in more than 200 countries and territories across the world. The DSL facility offers all PADI courses from Beginner to Instructor grades, together with guided dives at Saint Lucia's premium marine sites.
DSL prides itself on its global standards of excellence as reflected in its resident team of staff members, handpicked from the best St. Lucia has to offer. The DSL team members have received international levels of instruction, guiding and customer service.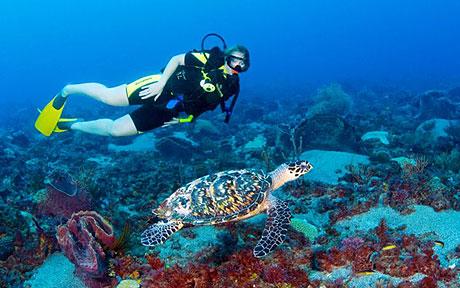 The company has expressed its commitment to the comprehensive training of a St.  Lucian workforce and will staff offer skills development opportunities from entry-level deck hands to full careers in diving, boat management and retail.
Dive Saint Lucia is partnered with the London School of Diving (LSD) – ranked among the UK's top dive centres and a PADI 5* Career Development Centre (CDC). http://www.londonschoolofdiving.com
LSD has been fully involved in the training and development of Dive Saint Lucia staff, and has guided the company's processes and procedures, as well as their adaptation for the Caribbean environment.
Dive Saint Lucia products and services are competitively priced and accessible to residents and visitors alike. Company officials anticipate a broad spectrum of customers looking for that unbeatable scuba diving experience.
As part of its corporate social responsibility (CSP) initiatives, DSL will also participate in education, community and environmental projects consistent with its broader objectives as a member of the business community.
Corporate partners supporting the DSL launch include Strongbow Apple Ciders,
Yellow Tail Wines, and Crystal Clear Water.