The Saint Lucia Hospitality & Tourism Association (SLHTA) hosted its annual general meeting (AGM) and Manufacturers Trade Show on Thursday, August 25, 2022 under the theme 'Building Forward Better…TOGETHER.' Held at the Sandals Grande St. Lucian, it was the agency's first in person AGM since the onset of the pandemic.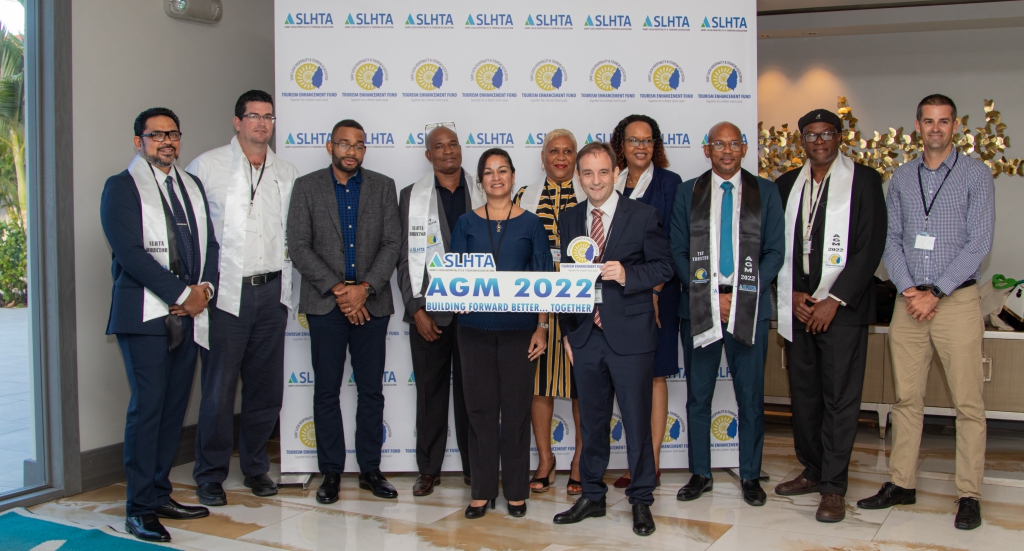 The lively Open Session was attended by Prime Minister Philip J. Pierre, members of Cabinet, key tourism stakeholders and specially invited guests. During the closed session, new members were elected to serve on the SLHTA's Board of Directors. Earlier this month, nominations were invited for representatives for the various sub-sectors.
The new Board of Directors comprises:
⦁ Marella Devaux- Representative for Luxury Villas and Vacation Rentals
⦁ Winston Anderson- Representative for Large Hotels
⦁ Christian Gandara- Representative for High end Boutique Hotels
⦁ Cheryl Gustave- Representative for Representative for Small Properties (Small Hotels, Inns/ Bed & Breakfast Establishments & Guesthouses)
⦁ Wadi Zakhour- Representative for Independent Restaurants and Food & Beverage Suppliers
⦁ Erwin Louisy – Representative for Airlines, Travel Consultants, Destination Management Companies & Wedding Services Providers
⦁ Corey Devaux – Representative for Ground Transportation & Cruise Sub-sector and Tour Service Providers (Automobile Rentals, National Taxi Union, Tourism Taxis & Cruise related businesses)
⦁ Sean Devaux – Representative for the Yachting and Maritime sub-sector
⦁ Daryl Raymond – Representative for Utility Companies, Statutory Corporations and Financial Institutions
⦁ Kirk Elliott – Representative At Large for Banks, Professionals, Educational Training Institutions & Other Allied Members
Other organisation Representatives:
⦁ Gasper George – Representative for Saint Lucia Air and Sea Ports Authority
⦁ Lorine Charles-St Jules Representative For St Lucia Tourism Authority
The Board is led by the Executive Committee comprising:
⦁ Paul Collymore – President
⦁ Senator Noorani Azeez – Chief Executive Officer
⦁ John Mathurin – 1st Vice President
⦁ Erwin Louisy – 2nd Vice President
⦁ Karolin Troubetzkoy – Immediate Past President
The board will serve for a period of two (2) years.
The SLHTA thanks all former board members for their dedicated service during their tenure. SLHTA President Paul Collymore has congratulated the new directors and looks forward to close collaborations as efforts continue to Build Forward Bettter…TOGETHER.