(CASTRIES, Saint Lucia – Wednesday 27th September 2023) – The Saint Lucia Hospitality and Tourism Association (SLHTA) proudly joins the global community in celebrating World Tourism Day today, Wednesday September 27 2023. World Tourism Day is held annually on September 27, and marks the anniversary of the adoption of the Statutes of the Organization in 1970, which paved the way for the establishment of the United Nations World Tourism Organization.
According to the United Nations (UN), tourism employs one in every ten people on Earth and provides livelihoods to millions more, making it one of the world's most important economic sectors. This year's observance is being held under the theme 'Tourism and Green Investments', and seeks to highlight the need for better-targeted investments for the Sustainable Development Goals (SDGs), the UN roadmap for a better world by 2030.
SLHTA President Paul Collymore stated: "As the President of the SLHTA, I would like to emphasize the significance of today's celebration of our thriving industry. In Saint Lucia, the profound impact of tourism resonates in nearly every household: with over 15,000 individuals directly employed in this sector and an additional 55,000 benefiting indirectly. As we diligently work towards rebuilding from the challenges brought about by the pandemic, the SLHTA maintains an unwavering commitment to fostering a sustainable and diversified tourism landscape that will yield benefits for all."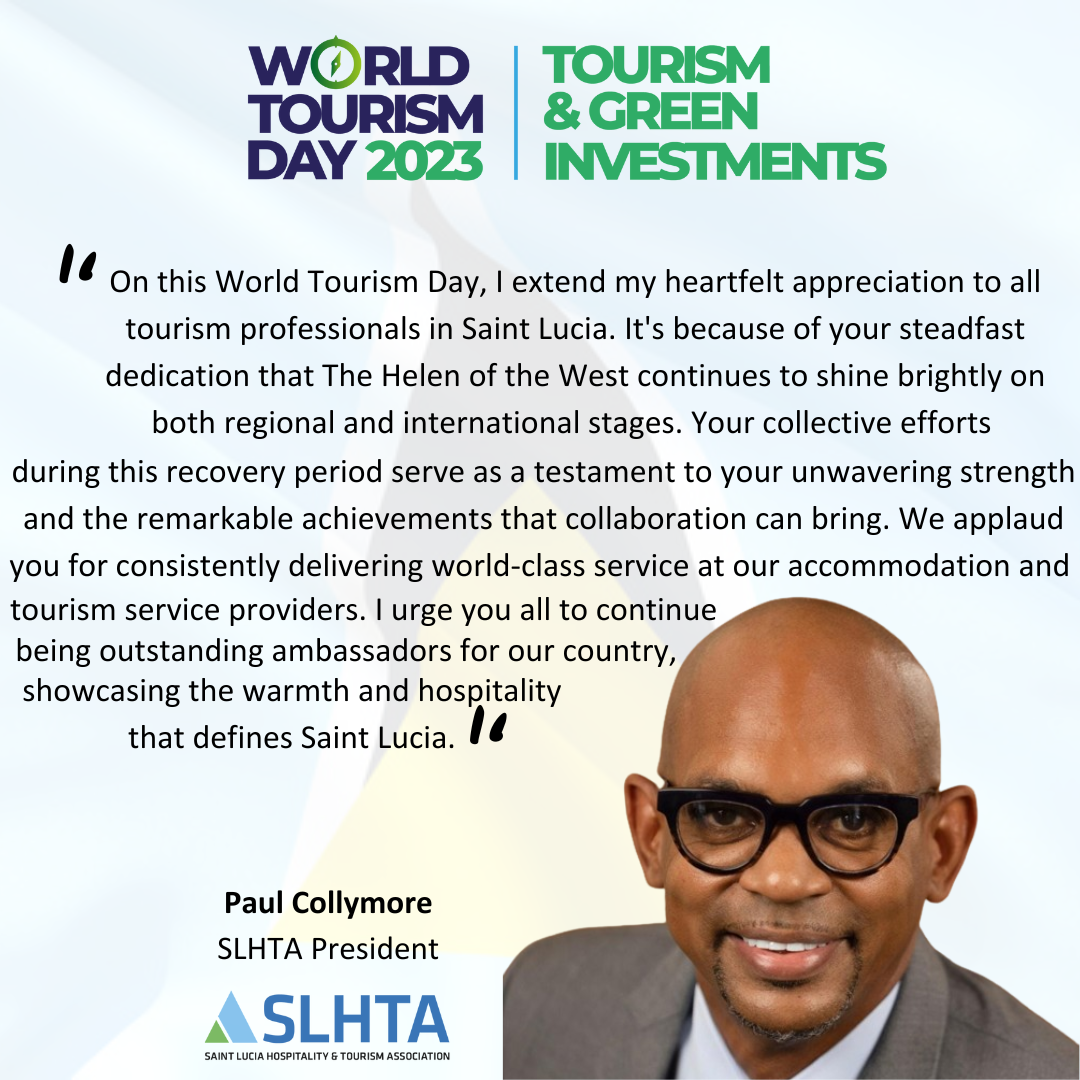 Collymore lauded tourism workers for the critical part they play in Saint Lucia's success, and praised their resilience in surmounting the challenges posed by the pandemic.  "I want to take a moment to commend the dedicated tourism professionals in Saint Lucia for their pivotal roles in our nation's success. Your resilience in navigating the turbulent waters of the pandemic has been nothing short of remarkable," he said.
"On this World Tourism Day, I extend my heartfelt appreciation to all tourism professionals in Saint Lucia. It's because of your steadfast dedication that 'The Helen of the West' continues to shine brightly on both regional and international stages. Your collective efforts during this recovery period serve as a testament to your unwavering strength and the remarkable achievements that collaboration can bring. We applaud you for consistently delivering world-class service at our accommodation and tourism service providers. I urge you all to continue being outstanding ambassadors for our country, showcasing the warmth and hospitality that defines Saint Lucia."
The United Nations has identified three ways tourism should invest to contribute to the SDGs:
For the People by investing in education and skills
For the Planet by investing in sustainable infrastructure and accelerating green transformation
For Prosperity by investing in innovation, technology, and entrepreneurship
SLHTA CEO Noorani Azeez pointed out that this year the Association has invested heavily in people and the planet. "Throughout the year we have continued to make good on our pledge to introduce programmes and initiatives to educate the youth and upskill the workforce. We teamed up with numerous agencies like the St. Lucia Fire Service, private organisations and community groups to roll out after school and summer programmes across communities in Saint Lucia. The programmes covered many areas including education, virtual reality, dance, first aid and CPR."
He continued: "Earlier this month over 190 hospitality professionals completed training workshops in supercharged service, food knowledge, safe and eco-smart housekeeping and positive supervisory skills. The workshops were made possible through a collaboration between the SLHTA and the Caribbean Hotel and Tourism Association Education Foundation."
In June the Association made one of its biggest investments towards the environment, when it partnered with the Saint Lucia National Conservation Fund to form the Marine Health Alliance (MHA). The MHA will allow Saint Lucia's tourism industry to support marine conservation, protect threatened biodiversity and promote healthy ocean ecosystems and reefs. Start up financing of US$100,000 was provided by the Association's philanthropic arm the Tourism Enhancement Fund.
"We will continue to introduce programmes which align with the SGDs," said Azeez. "More training opportunities are in the pipeline to ensure that our professionals remain on the cutting edge, and our youth will continue to benefit from support aimed at th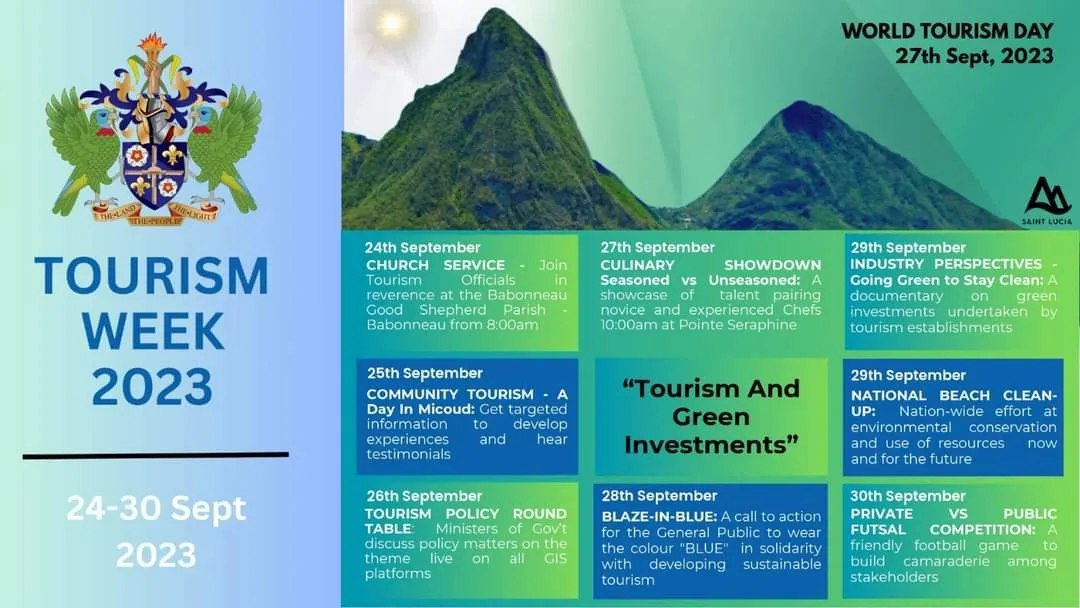 eir holistic development. I wish all stakeholders a Happy World Tourism Day. As we celebrate, let us all reflect on this year's theme and commit to making our industry once that contributes to making our world a better place."
The SLHTA, Ministry of Tourism and Saint Lucia Tourism Authority have planned a number of activities to observe World Tourism Week and Day. Members of the public are encouraged to participate:
Wednesday, 27th September: Culinary Showdown- Seasoned vs Unseasoned: A showcase of talent pairing novice and experienced chefs from 10:00am at Point Seraphine, Castries.
Thursday, 28th September: Blaze-in-Blue- A call to action for the general public to wear the colour blue in solidarity with developing sustainable tourism.
Friday, 29th September: National Beach Clean-up- Nation-wide effort at environmental conservation and use of resources now and for the future.