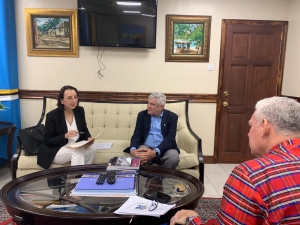 The Saint Lucia Hospitality & Tourism Association's Tourism Enhancement Fund successfully facilitated a workshop on tourism safety and security for over 200 persons last week. The one day workshop led by international safety and security expert, Dr Peter Tarlow, was attended by a large cross section of hospitality and security professionals. Held from October 22nd – 25th, the four one-day sessions in Castries and Soufriere included representatives from the Royal Saint Lucia Police Force and the Port and City Police as well as members of the Immigration Department. Also in attendance were beach vendors, jet ski operators, taxi drivers, vendors from Castries, Gros Islet and Soufriere and a number of local tour guides. 
The diverse group were taken through a number of critical issues key to maintaining the security and enjoyment of visitors to the island. Discussed were the importance of good customer service, best practices for resolving conflict with a visitor when it occurs and approaches on how to respond to security incidents involving tourists. The workshop also allowed participants to have an open dialogue on their experiences dealing with visitor security issues and to receive valuable feedback from international security expert, Dr Tarlow. 
Dr. Peter Tarlow is a world-renowned speaker and expert specializing in such areas as: the impact of crime and terrorism on the tourism industry, event and tourism risk management, and economic development. This is third visit to the island, Dr Tarlow has been working closely with the Association over the last year to advance safety and security efforts in the local tourism industry including the development of a National Tourism Security Plan being birthed in conjunction with the Government of Saint Lucia. 
"Dr Tarlow has become an invaluable asset to our work at the SLHTA", explained SLHTA CEO Noorani Azeez, "We remain critically aware of many of the challenges our industry faces from crime, hurricanes, visitor harassment and public health safety and welfare and consciously addressing all of these areas is key to our sustainable development not only within the tourism industry but as a country as a whole. Therefore, building the capacity of persons who work closely with visitors to prevent and respond to security issues and empowering them to transplant that knowledge into their colleagues and community  is of utmost necessity if we want to ensure the continued development of Saint Lucia's tourism industry". 
The one-day workshops form part of the SLHTA's reaffirmed focus on addressing visitor safety and security issues in the local tourism industry. Supported by funding through the Tourism Enhancement Fund, Dr Tarlow has been critical in building a National Tourism Security Plan, through dialogue with public and private sector partners, that will target five issues: safety, security, health, economic well-being, and reputation. 
"This ongoing project will be of immeasurable value to not only our tourism industry but to the collective society. We have long recognized that the perception of an unsafe country, real or imagined, can cause significant damage to us," says SLHTA President Karolin Troubetzkoy, "while we acknowledge that the solutions to addressing our national security challenges are complex and cannot be done by one organization or group we hope that through the creation of long-term evidence based strategies and goal-oriented training we can make a significant difference in remedying some of the internal and external security concerns our visitors and citizens face on a daily basis".