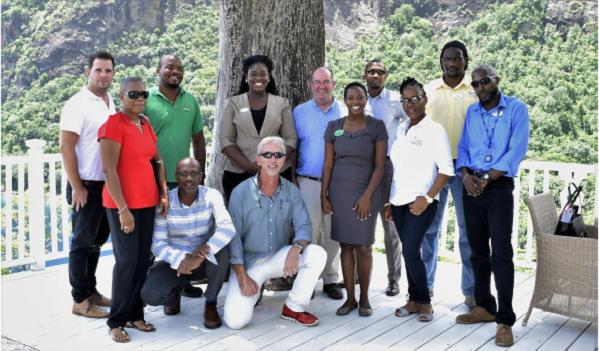 On Thursday 18th August the SLHTA environmental team co-chaired by Carl hunter went on a property tour of the Sugar Beach Resort. Sugar beach has been working on 4 specific environmental initiatives namely:
Waste reduction – Sugar Beach has partnered with a local pig farmer who comes daily early in the morning to sort and collect all food waste. This in turn reduces significantly the waste that needs to be taken to the landfill in addition to benefiting a local farmer. This collaboration is commendable and at no cost provides a win-win for the resort and the community.
Social Commitment – The team from Sugar Beach partnered with the Bouton Combined School to build a resource center – this was not just a simple exercise of renovating an existing building – but a full build of a facility that has positive and lasting benefit to the school. Sugar Beach invested close to $150,000.00 towards this initiative in addition to the environmental team's personal time in bring the project to fruition. In addition to the support of the School the Sugar Beach's Environmental Committee undertakes beach and community clean up drives – Special focus has been placed recently on the cleanup campaigns in order to identify and remove potential mosquito breeding sites.
Paperless Guest Rooms – Sugar beach in expanding the commitment to become as paperless as possible and has introduced IPads to each guest room in place of the in-room guest compendium – This not only eliminates the paper that otherwise would be used but also enhances the guest's experience with the resort enabling them to see and select from menus tours and other resort activities and activities all in a very personalized way.
Sewage Treatment – Sugar Beach has invested in a great waste-water management system which deals with inflows of up to 40,000 gallons of sewage daily. Their system manages all the waste treatment in a highly responsible way and ensures zero discharge into the marine environment of effluent. The environmental committee especially wishes to thank Gaspar Blaze and Shearvon Devenish for their kind hosting of the SLHTA committee's visit and their open communication and sharing of what is working well from an environmental perspective at Sugar Beach. After the tour of Sugar Beach the committee went on to meet with Mr. Noel in Laborie to see and experience the operation of his innovative desalination project. Currently Mr. Noel is able to produce 1000 + gallons daily from his self-designed solar powered desalinization system directly from sea water. Mr. Noel is working on several refinements and improvements which he hopes will dramatically increase output. We look forward as a committee to reconnecting with Mr. Noel at a future date to re-engage with his project and learn more. The visiting environmental committee contained representatives of Sugar Beach, Anse Chastanet resort, Jade Mountain Resort, Windjammer, Bay Gardens, Ti Kaye, Sandals & Ecohension from Barbados.