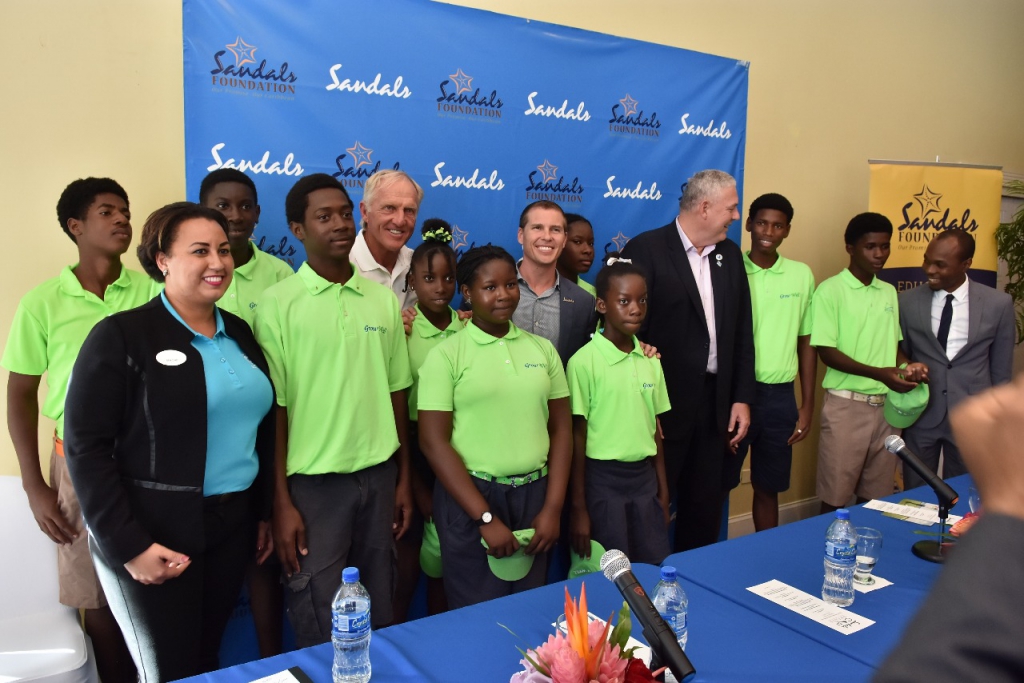 Several of Saint Lucia's Grow Well Junior Golfers had a unique opportunity to meet one of the game's greatest ever players last week; World Golf Hall of Famer Greg Norman. This came during the official announcement by Sandals Resorts International that the Greg Norman Golf Course Design will design a new 18-hole Championship golf course at Cap Estate.
Grow Well Inc. is a voluntary organization founded in 1995 and established to assist and support the under-served people in the community of Gros Islet. The organization is run by a voluntary executive board with the mission, to, among other things, encourage, improve and develop the positive and constructive growth of the youth within the Gros Islet District.
They strive to make skilled and trained counselors available, in an effort to deliver social and guidance counseling services and educational programmes addressing alcohol and drug abuse, while developing an alternative school for youth not continuing into secondary school, focusing on youth development and skills training.
The group remains focused on providing a gathering place for youth to hold social, educational and spiritual functions, and at the same time, offer programmes in the areas of skill development, leadership and self-esteem.
Grow Well programmes benefit about 210 young people, and include Remedial Reading, Junior Golf which utilizes the facilities of the Sandals St. Lucia Golf & Country Club at Cap Estate, the After School Library & Computer programme and the Girls Circle. The organization has just embarked on a new initiative, a satellite remedial reading programme in the Monchy infant school within the Gros Islet District.
Presently, 16 children ages 9 to 17 participate in the junior golf programme. During the Summer and Easter golf camps, numbers swell to 20. Colleen Newman is the current Secretary, and she avidly represents the interests of the young people. She says, "Anyone can play golf. It is a wonderful sport that develops our young people, giving them the discipline they need to succeed. For those who leave secondary school and are 18 years and older, we try to gain them sponsorship as junior members of the course. For those who are exceptional we try to gain golfing scholarships abroad. We are training them all to be responsible members of their community and we will try to get them further education, internships or jobs, depending on their aptitude and skills. That's our goal." "I am incredibly impressed with the Grow Well programme and what Saint Lucia is doing to foster youth golf development at the grassroots level," said Greg Norman. "Everything you need to know about life, you can learn from golf, so these children have an incredible opportunity with Grow Well and I am excited to support it with our new partnership at Sandals St. Lucia."
Five of the junior golfers participated in the Caribbean Junior Golf Open in Trinidad in April 2017. This year, the goal is to send 4 boys, and 2 girls to this year's 4-day tournament which begins April 3, the week after Easter.
Some of these junior golfers who had the opportunity to meet renowned player Greg Norman, have re-committed themselves to the sport, vowing to "play as hard as we can, and as long as it takes to become pros."
Grow Well continues to seek assistance from the public to increase the capacity of the institution to provide for the children of Gros Islet.