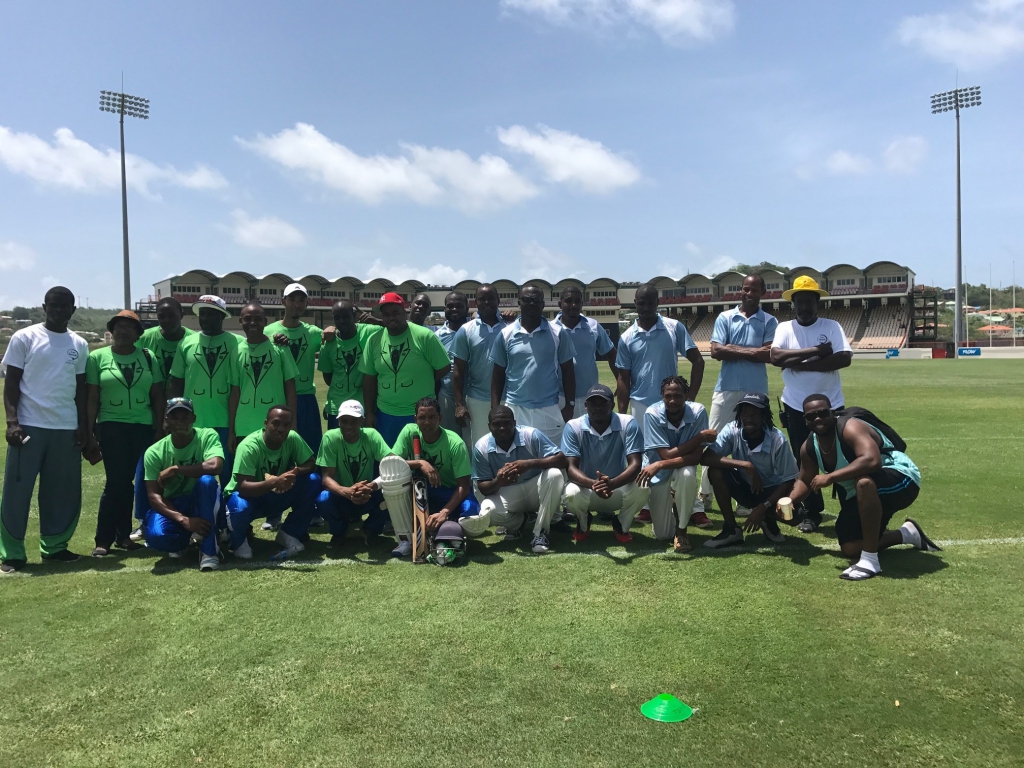 The old adage that all work and no play makes Jack a dull boy still rings true today. Jill too, if we are to be politically correct. Consequently, over the last five years Sandals Saint Lucia has been hosting an active annual sports programme that allows team members from all three resorts to vie for medals and trophies.
From Cricket to Volley Ball, Basket Ball, Net Ball, Foot Ball, Track & Field and Dominoes, Sandals Staff relish the opportunity to doff their work tools and instead don their sports gear for the annual All That's Good Funday at the Darren Sammy Stadium.
This year teams went all out for top honours starting with the official opening of the games. The March Past was pure creativity with extravagant costume selections depicting the theme "Time Trek", a spirit of competitiveness that they took into the various events – all the resorts were in high gear.
One of the highlights of the games was the cricket tournament, won by Sandals Regency La Toc. Opal Francis, HR Manager at the Sandals Regency La Toc Golf Resort and Spa was still in a euphoric state after her team's outstanding performance. "Our cricket team has taken record breaking to a whole new dimension. If we kept a Guinness World Records 2017 edition, we would be in it.
Starring for the Sandals Regency La Toc cricketers was Jason Simon, Pub Supervisor who smashed 70 runs. Other stars of the winning team were Joachim of Front Office; Andrew and Dylan from Bars; Ferguson and Forn from the Spa; Michera from the Pub; Vivus from Cost control; Sydney the Butler and Dwight from Watersports."
Indeed, Sandals Regency La Toc swept the field when it came to just about all the other events as well.
But as they say all is fair in love …and the others Sandals Saint Lucia Resorts, in keeping with the team spirit and camaraderie of the games, offered their congratulations. HR Manager at The Grande Saint Lucian Spa and Beach Resort Marsha King took the time to personally commend the fellow team members from Sandals Regency on their sterling performance throughout the 2017 games. "They won the basketball, the netball, the football and the cricket. They had a plan and they executed it flawlessly. We congratulate them on their outstanding achievements this year". Meanwhile, HR Manager at Sandals Halcyon Beach Resort Donna-Jean Samuels, was just as supportive. "Our sister team members at Sandals Regency La Toc put on a great show. They were consistent throughout the event, and showed us what it means to 'stick to the game plan'. This is what happens when team members understand the objective, and work to achieve the goal. All in all, our 2017 All That's Good Funday was just that – all good and all fun."
Managing Director Winston Anderson went on to congratulate General Managers Chris Elliott and Michael James as, in his words, "our General Managers understand the importance of building team spirit. We all recognize that without a balanced team that is willing to go the extra mile, our work will be much harder. With that said, we all look forward to a good challenge, and we eagerly await the release of next year's theme so that we can start planning early for another successful All That's Good Funday!"