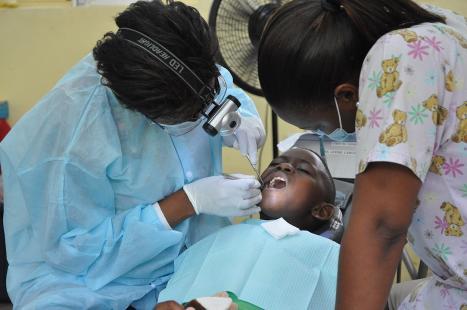 The Sandals Foundation and Great Shape Inc. through its 1000 Smiles program, has returned to Saint Lucia following a successful program in 2015, which reached some 500 people in the north and south of the island.
Through this initiative, which comes in partnership with the Ministry of Health, more than 60 volunteer dental practitioners from the United States, Canada and elsewhere will be in Saint Lucia between July 25 to August 9, 2016.
The group will make available once again free dental clinics to the deserving public. The first said clinic will take place at the Marchand Combined School from July 25-29 from 8:00am each day. Two other clinics will be made available in the communities of Anse La Raye and Canaries during the week of August 1-5.
"It is because of the Sandals Foundation sponsorship and partnership that makes this all possible. We are honoured to be here to work with the people who need these services and would otherwise not be able to access them," said Director of the Great Shape Inc. "When Sandals Foundation there behind us providing this kind of support it makes it so easy for our volunteers to come and provide their skills to the people in need."
Salli-Jo Walker, Program Director of the 1000 Smiles Dental Program – the world's largest international humanitarian dental project – has extended heartfelt appreciation to the Sandals Foundation for providing logistical and other support for the program for another year in Saint Lucia.
"For this week have about 65 volunteers this year coming to Saint Lucia to offer dental services. For the next two weeks we will have three field clinics offering a series of routine dental services at no cost to the public. So we encourage all those who need the service to come in early and get registered," Walker said, adding Oral health education will also be provided in temporary MASH-style dental clinics
Shifting slightly form the 2015 operation, Walker explained that there would be a one-off registration process on Monday July 25, 2016 at the Marchand Field Clinic where patients will be given the opportunity to get registered for either immediate service or referred to another day. This is to avoid the loss of time in waiting and allow for a smoother operation.
"If you are unable to get seen on Monday, you will be issued a ticket for a following day. So we ask everyone to come out early," Walker advised.
Over 600 volunteers will be coming to the Caribbean this year alone under the 1000 Smiles umbrella.
In 2015 the clinic reached around 500 people and in 2016 it is expected to reach a significantly larger number.
For the past fourteen years, the Great Shape 1000 Smiles Dental Project has partnered with Sandals Foundation and the Jamaican Ministry of Health to deliver free dental services to thousands of Jamaicans each year, and is happy to be able to bring this program to Saint Lucia for the second year.
Sandals Foundation is a key partner in making these programs possible.
Director of Programs for the Sandals Foundation Mrs. Heidi Clarke said the Foundation was happy to bring the program once again to the people of Saint Lucia, and reiterated the importance of proper dental care in Saint Lucia.
"This program continues to grow tremendously over the years and the team at Great Shape and 1000 Smiles have continued to go above and beyond each year to make the program better," Clarke said.
The dental program is one of the largest in Saint Lucia's history.