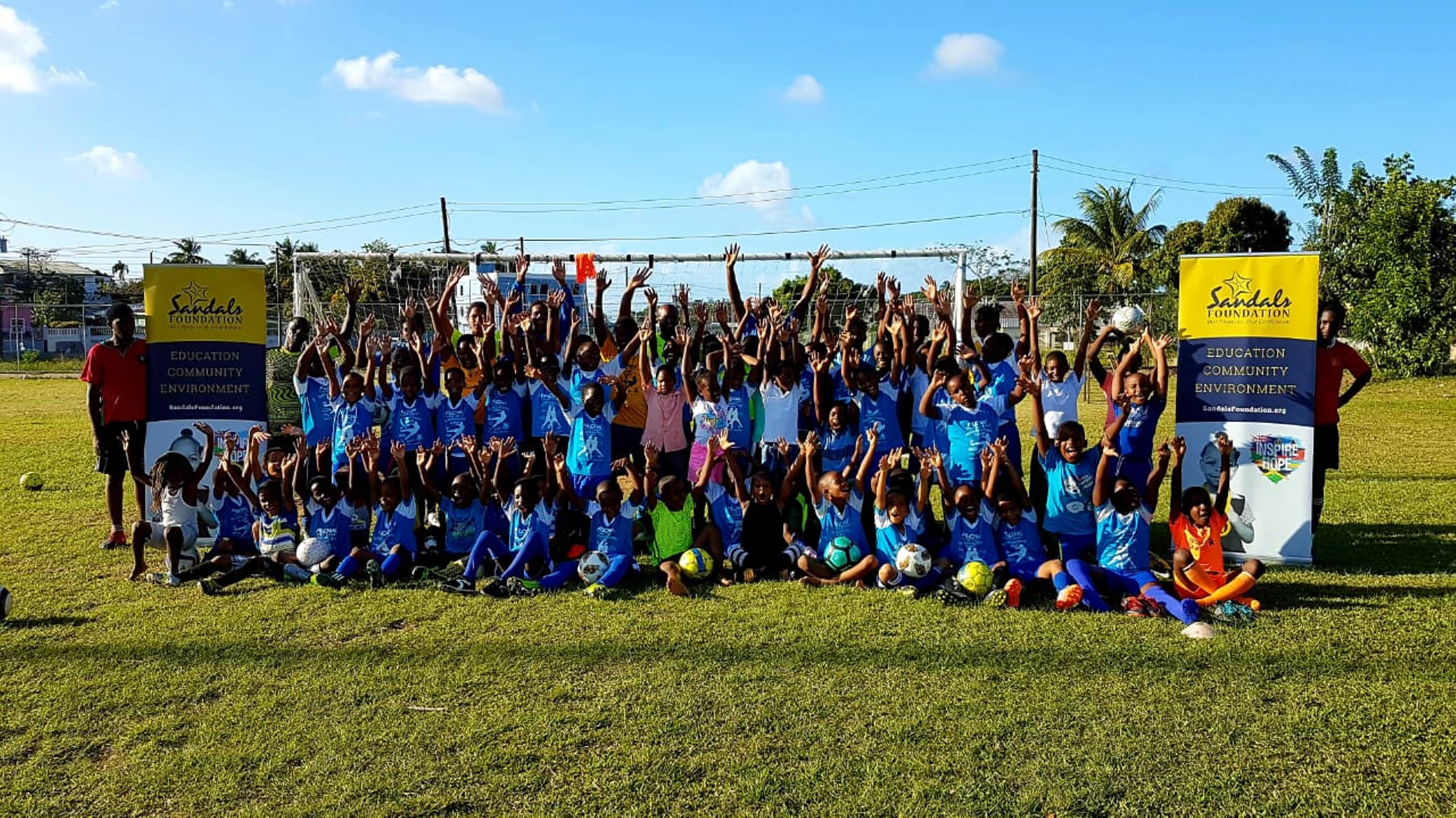 Sandals Resorts International has continued its support of developmental programmes for Saint Lucia's youths, joining forces once more with the Trevor Daniel Football Development Programme, by contributing XCD$5,000 toward its recent Football Excellence
Clinic.
The Sandals Football Excellence Clinic was a resounding success, and comprised a total of four clinics which were held on February 22nd, February 23rd, and February 26th. Children of all ages participated and were classified in the following groups; Under 11s, Under 13s, and two groups of Under 16s.
In summarizing the results of the 2019 clinic, Coach Trevor Daniel said, "The visiting coaches were happy with the enthusiasm and passion of the participants, and they echoed my sentiments that we need to make individual technique training a priority at the earlier stages of
their development. We need to build their confidence with the basics and as they become more comfortable handling the ball, to have the children increase speed of play."
One of the visiting officials from the United States, Coach Aiyenero, identified eight young Saint Lucian players who will get the opportunity to travel and train for 14 days with U.S. club teams. They are:
Under 11s – Nathaniel Joseph, Micah Francois and Serina Johnny
Under 13s – Nicollyn Belle, Klein Maurice and Ajani Shanganoo
Under 16s – Rawson Harris and Deandre Tisson
Coach Daniel said the ultimate goal of the academy is to get Saint Lucia to a World Cup or Olympic football final in the next 16-20 years. "We will accomplish this if we expose a large number of children to advanced training at a very early age. In 2014, Sandals Resorts International, recognizing the positive benefits to young people, became a partner and has continued to support this venture ever since. After only five years we have produced five players on the national Under 15 team of Saint Lucia including the captain. So again many thanks to our
title sponsor Sandals for making this possible. Without this support we would not have been able to pull this off. Plans are already in place for the 2020 clinic and to send the first two players to Wisconsin, USA in the summer of 2020".
The visiting coaches have committed to the programme for 10 years. Coach Daniel and their parents will be responsible for their airline tickets, while Coaches Aiyenero and Senaise will be responsible for the children's accommodation, food and transportation in the USA.