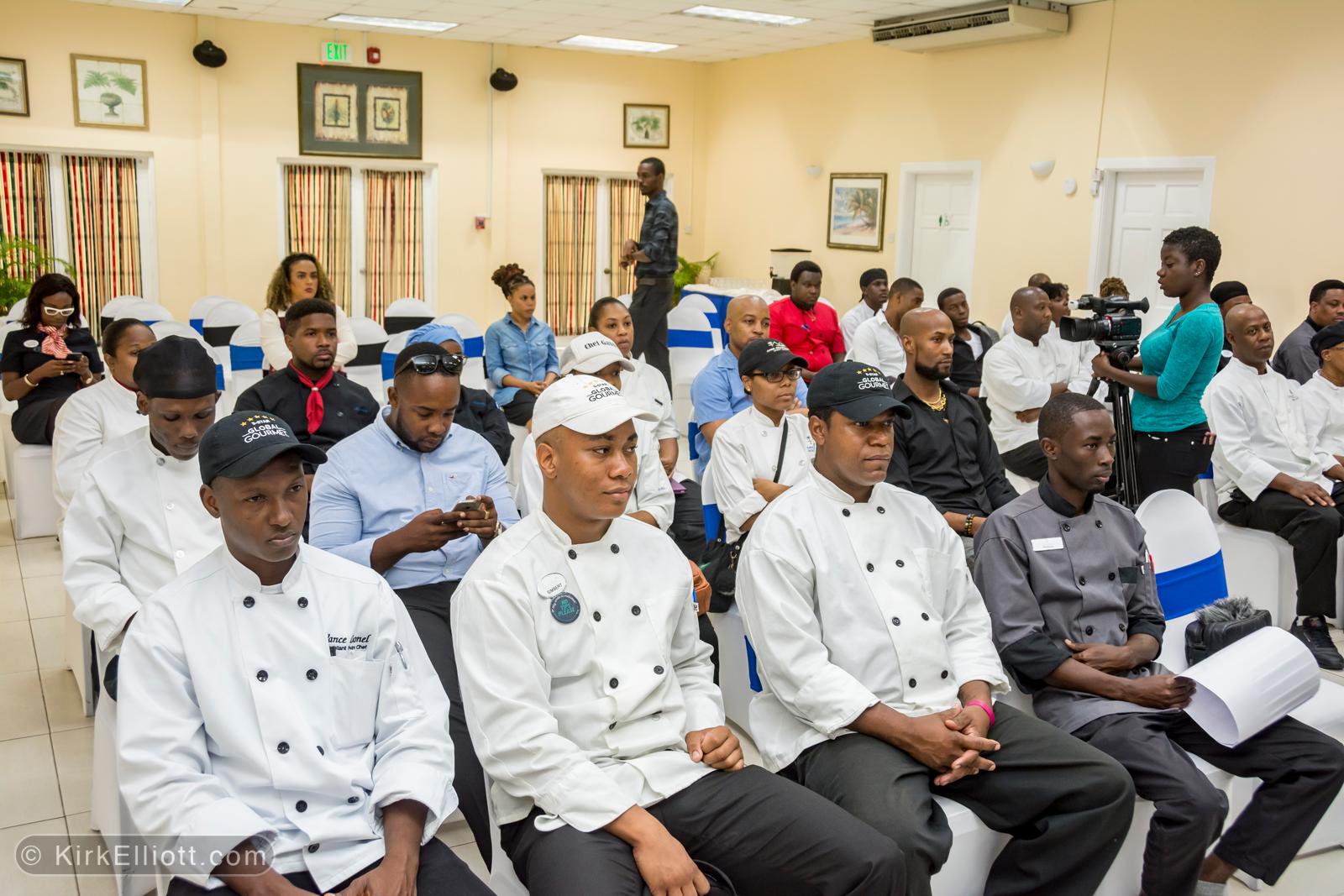 For most of us, 'superb culinary experiences' are limited to only infrequent nights of fine dining and nostalgic doses of 'mommas' cooking. When we have devoured the last of a good meal, stomachs bulging and satisfied, we think little of the labour of love that made it all possible. For a select few, however, food holds a more profound meaning and unlocking the combinations for a great tasting meal is more a way of life than merely a response to hunger.
Whether kismet or a stroke of chance, chefs are bred from all sorts of circumstances. On a tiny isle like Saint Lucia, it is possible that the head chef at one of the island's best restaurants hailed from humble beginnings; a once-troubled youth or member of a low-income household in a far from affluent community. For him or her an introduction into the culinary arts presented a way up and out. For others, their nurtured culinary expertise was the result of an early introduction to the world of food. Perhaps cooking became an innate interest developed while restaurant hopping with well-to-do parents. Under all circumstances, however, one thing is certain; to climb the culinary charts one must possess copious amounts of will, ambition and an above average propensity for hard work. Only then does a chef become well respected amongst peers and other highly regarded foodies.
In the era of James Beard Awards, where accolades are handed to chefs perceived as culinary masters on a global stage, Saint Lucia has etched its own platforms to crown ground-breaking local chefs who push boundaries. Many of said cuisine maestros have forgone foreign kitchens to now primarily serve in a country with a vibrant yet gritty, fast-paced culinary scene. Via these formal initiatives, new generations of chefs are supported and the established applauded.
A typical case is the efforts put on by the Saint Lucia Hotel and Tourism Association to organize high stakes cooking contests where teams of chefs are selected following rigorous elimination processes. These chefs then go on to represent the island on a world stage. Most recently, six chefs were selected as part of Saint Lucia's National Culinary team to contest in the annual Taste of the Caribbean tournament, set to take place in Miami in June 2019.
The team was selected via Saint Lucia's National Culinary Competition where 47 chefs battled for a title in one of the following four categories; Chef of the year, Junior Chef, Seafood Chef, and Beef Chef. The competition's judges focused mainly on menu accuracy, safety, and presentation.
When asked about the significance  of such opportunities, Culinary Team member Chef Clayton Julien—who was named 2019's Chef Of The Year and has cooked in several restaurants all around the world—said, "I believe, at the moment, this is the best thing for chefs on the island. One, it gives them exposure. Two, it helps to develop them. Three, it allows for mentorship for the next generation which I find is the most important thing." The appointed Culinary Team Manager, Chef Richardson Skinner, has said judging in the competition is strict and unforgiving. It is also used to gauge and monitor the current level of culinary skills on the island.
Come next year, more opportunities will be on the table for local chefs, young and old. In the interim, while organizations like the SLHTA remain dedicated to supporting one of the islands most lucrative disciplines, chefs will continue to master the region's flavours; capturing and conveying the essence of Saint Lucia using plates as their canvases.
The full list of winners and members of Saint Lucia's National Culinary Team are: Chef of the Year – Clayton Julien (Sandals Regency La Toc Golf Resort); Beef Chef – Vernance Dore (Big Chef Steakhouse); Seafood Chef – Ricardo Josue Jr (Harbor Club); Junior Chef – Zyhim Cadet (Cap Maison); Pastry Chef – Emmany Hippolyte (Jade Mountain); Chocolate Chef – Steffie Marius (St James Club Morgan Bay St Lucia); and Bartender – Craig Andes (Sandals Grande St Lucian Spa and Beach Resort).