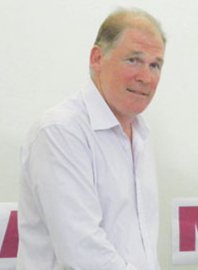 General Manager Ross Stevenson of Saint Lucia's Cap Maison has been nominated for the 2014 Award of Excellence by Luxury Travel Advisor as the Top General Managers Worldwide.
Mr. Ross Stevenson has been with Cap Maison, one of Fodor's Top 100 Hotels and one of Saint Lucia's top luxury resorts, since 2008
Mr. Stevenson has 37 years of experience in the Hospitality Industry starting in Scotland in 1977, having worked in hotels in Germany, England, Barbados, and Switzerland. He worked his way up the ladder within these hotels starting as a houseman in housekeeping and then working in restaurants and in the banqueting and  conference departments, including banqueting administration, gaining vast practical experience along his journey.
His first General Manager position was in 1991. As General Manager of Cap Maison, Mr Stevenson played an instrumental part in the opening of this resort on October 26th 2008, in the midst of the turmoil of the worst global recession in living memory.
Mr. Stevenson currently serves on the Saint Lucia Hotel and Tourism Association Board of Directors as the 1st Vice President. He was also a guest speaker at the recently concluded Tourism Forum of the National Competiveness and Productivity Council's 'Productivity Awareness Week 2014'.
The Luxury Travel Advisor's Award of Excellence is given to suppliers that make their clients' travel experiences unforgettable. Every year, the Luxury Travel Advisor Awards of Excellence advisory board, an invitation-only panel made up of influential travel advisors who have graced the cover of Luxury Travel Advisor, hand-selects the nominees across a range of products. And it is up to our travel advisor readers to determine who is most deserving of being named an Awards of Excellence finalist.
Voting is open to Travel Advisors only. Luxury Travel Advisor will unveil the winners at LTA's ULTRA Summit on May 18th 2015.
The Saint Lucia Hotel and Tourism Association (SLHTA) extends congratulations and warm wishes to Ross Stevenson on his nomination as one of the Top General Managers Worldwide.