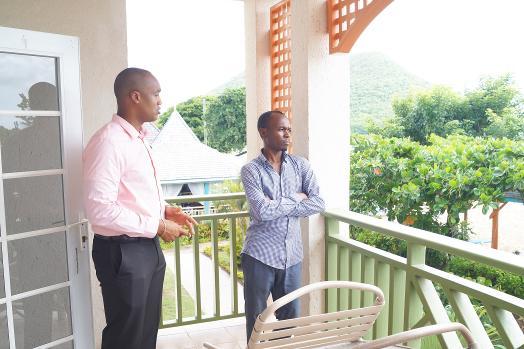 Tourism Minister, the honorable Dominic Fedee, conducted a site visit of all three properties of the locally owned and operated, Bay Gardens Resorts, as well as Splash Island Water Park on Tuesday, July 19th, 2016.
Accompanied by Bay Gardens Resorts Executive Director, Sanovnik Destang, Mr. Fedee got the opportunity to dine at the famous Seagrapes Restaurant and Bar for lunch at Bay Gardens Beach Resort and Spa on Reduit Beach. He also got to view multiple room categories at each property as well as speak to many staff members as well as both Mrs. Berthia Parle, General Manager of the Bay Gardens Beach Resort and Spa, and Ms Waltrude Patrick, General Manager of the Bay Gardens Hotel and Inn. During these conversations with them, he continued to stress on how proud of the work they have been doing.
"The Bay Gardens Resorts properties are truly beautiful and the accommodations are quite spacious and comfortable", said Minister of Tourism, Dominic Fedee. "It is important for the Ministry of Tourism to do these site visits and work with the hoteliers to strengthen our industry"
The minister asked many questions and was very interested in every aspect of day to day operations at each property during the visit. He also took time to stop and take pictures with many staff members and speak to them on a one on one basis.
"It is always a pleasure to host the Ministry of Tourism, represented by the Minister Dominic Fedee, at the Bay Gardens Resort properties. Our entire team was delighted by his presence and congratulated him on his new appointment", said Executive Director, Sanovnik Destang.
Bay Gardens Resorts looks to continue its strong partnership with the Ministry of Tourism when it comes to development and growth of the industry and the Saint Lucian people.
-ENDS-
 About Bay Gardens Resorts
Bay Gardens Resorts is a group of award winning, locally owned hotels located in Rodney Bay Village, St. Lucia's entertainment capital. All three of Bay Gardens Resorts properties – Bay Gardens Inn, Bay Gardens Hotel and Bay Gardens Beach Resort & Spa – are within walking distance of over 40 restaurants, entertainment, duty-free shopping malls, Treasure Bay Casino. All properties offer superior accommodations, traditional Caribbean cuisine, and the finest in service and hospitality. The first ever open-water sports park, Splash Island Water Park is the new addition to the Bay Gardens Resorts brand.
About Splash Island Water Park St. Lucia
Located on the Northwest coast of St. Lucia, on the popular Reduit Beach, Splash Island is the Caribbean's first open-water sports park. Splash Island is located in front of the multi-award-winning Bay Gardens Beach Resort & Spa located in Rodney Bay Village, Gros Islet, St. Lucia and is an inflatable water park which kids, families and weekend warriors alike can enjoy the many obstacle-course style features. The park is manufactured by Wibit Sports GmBH a German watersports company who has been producing commercial grade inflatable water sports products for over 18 years and features include a trampoline, climbing wall, monkey bars,  a swing, a slide, hurdles, double rocker, flip, and water volleyball.