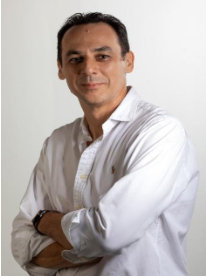 Marigot Bay Resort and Marina on the Eastern Caribbean island of Saint Lucia, has appointed Daniel Echasseriau as Director of Food & Beverage and Culinary Operation at the stunning property.
Mr Echasseriau, who comes to Saint Lucia from St Peter's Bay Resort & Residences and Port Ferdinand Marina & Residences in Barbados, brings over 26 years of experience to his position having enjoyed a distinguished career in the kitchens as an Executive Chef and in the last five years as Director of Food and Beverage at some of the best restaurants and hotels around the world.
A native of Brittany, France, and the youngest of five siblings, Daniel began his culinary career at 17 years old, studying and working every weekend on the west coast of France for private villas. But even before that time, he knew cooking was his calling.
"As a child, my entire family worked on a farm in the small village of Severac. My mother took care of us all preparing meals using the produce straight from the farm.  When the food was served at the table the taste was unbelievably flavourful, the smell of the fresh products and the old pot on the stove are flavours and image that will always stay on my mind" said Echasseriau. 
"The passion and drive that my mother had for cooking and the way she prepared poultry, game, and vegetables to create incredible flavours from simple ingredients was a true inspiration to me. I think this experience honed my passion for vegetables and all of the fresh produce of the garden," said Echasseriau, who continues to use and adapt many of the recipes he learned as a child in his mother's kitchen
"To this day, my mother remains as my greatest inspiration. She was cooking all the time.  No matter what she was cooking, it always smelled good, even from far away when we were arriving home from the farm."
From his early start, the chef continued to work his way up through the kitchen ranks with stints at a number of top international restaurants including Midsummer House Restaurant in Cambridge, England; La Maison Restaurant in Holetown, Barbados; the Coconut Residence in Gambia, West Africa; La Samanna, Belmond Hotel in St Martin, French West Indies; Hilton Bora Bora Nui Resort & Spa, French Polynesia; and the Rosewood Corniche, Jeddah, Saudi Arabia.
Throughout his extensive career, the Caribbean has always held a special place in his heart. In fact, taking up his new role at Marigot Bay is somewhat of homecoming for Daniel who worked as Executive Chef at The Body Holiday, Le Sport in the north of the island 16 years ago.
"I love the Caribbean and Saint Lucia in particular. I am really excited to be back on the island and working with some of the loveliest, hardest working people in the world, in one of the most beautiful places in the world," Echasseriau said.
"The island has evolved quite a lot in the time I have been away. There are still challenges, but it is easier to get ingredients and high-quality produce now and I plan to capitalize on this and establish relationships with local suppliers to create a true farm to table experience for our guests."
Wellness will also be central to Echasseriau's culinary ambitions and he plans exciting changes at all of the resort's food and beverage outlets to give each one a unique identity.
His aim is to introduce concepts that will not only be attractive to resort and marina guests, but also to locals and expatriates living on the island.
"I'm excited about what's ahead. I believe we have a great team and the ability to create something really special here," Echasseriau said.