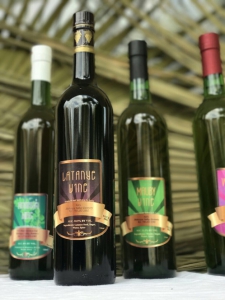 The St. Lucia Hotel & Tourism Association (SLHTA), which recently won an award and accolades from the Caribbean Hotel & Tourism Association (CHTA) for its Virtual Agricultural Clearing House (VACH) program, is moving to expand the initiative in order to allow the manufacturing, agro-processing and and art and craft sectors to benefit from it.
The Virtual Agricultural Clearing House enables local farmers to sell their produce directly to hotels, restaurants and food and beverage distributors by connecting with them via a simple Whatsapp platform. Using the app they are able to tell the hotels and other food buyers what produce they have available and in what quantities. The VACH has also been upgraded to trifarmltd.com, an online crop forecasting and modelling tool. It provides the hotels and other buyers with real-time data on what crops will be available months in advance and from which farmers they can be purchased. The tool was created by St. Lucian entrepreneurs Garvin Francis and Melvin Felicien.
Rise St. Lucia Inc., which currently runs an agricultural project that produces healthy, organically grown foods, is also a beneficiary of the VACH. The project is being sponsored by the Tourism Enhancement Fund and is aimed at reducing the consumption of imported genetically modified foods locally.
The phenomenal success of the VACH earned the SLHTA second place in the Social Responsibility category of the CHTA's 2017 Caribbean Hospitality Industry Exchange Forum (CHIEF) Awards. The CHIEF Awards highlight Caribbean businesses that work to improve the wellbeing of the industry and the region through the adoption of best practices.
With the VACH having had such a positive impact on the agricultural sector, the SLHTA is now looking to replicate its success by strengthen its partnership with the manufacturing, agro-processing and art and craft sectors and incorporating them into the linkages program.
SLHTA CEO, Roderick Cherry said this would position the tourism industry to increase its demand and procurement of goods and services that can be competitively sourced locally. At the same time, it will strengthen the linkages between the industry and all the other participating sectors, he added.
"Since its introduction, the VACH has resulted in increased sales for the farmers, many of whom have developed excellent relationships with the hotels whom they supply directly," said Roderick. "Similarly, the tourism dollar has the ability to flow into other sectors beyond hotels, simply because the industry encompasses a wide spectrum of economic activities spanning the agricultural, manufacturing, entertainment and services sectors.
"This is why the SLHTA is working vigorously to broaden our linkages program. We want to create opportunities for the hospitality sector to do more business with local goods and service providers. Furthermore, we believe that by strengthening our linkages with our partners, this will help to significantly reduce St. Lucia's importation bills for food and other products, and ultimately lead to increased investments in the country," said Roderick.