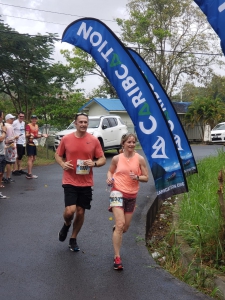 Run For Fun Cruise Incorporated and Serenity Vacations & Tours DMC showcased yet another Run For Fun Cruise event in Saint Lucia last Wednesday. The quest for synergy between cruise and stayover tourism is receiving joint public and private sector action with the successful hosting of a Run For Fun cruise marathon on Wednesday. Run For Fun cruise is niche cruise vacation event in which hundreds of individuals and special interest groups from a diverse middle to upper income demography, engage in 5 & 10 K marathon races at select ports of call, on seven day cruises around the globe. The event is hosted here by Serenity Vacations & Tours DMC, who secured Saint Lucia as the marquee stop after a successful hosting two years ago.
According to John Mathurin, General Manager of Serenity Vacations, "it is only fitting that we capitalize on the rich demography of clientele gracing our shores for a day, showcase the diversity and uniqueness of our formidable destination, thereby, making it conducive to participants making decisions to return for longer vacation stays". "We deliberately invited the Gros Islet Primary School Students athletes to participate so as to expose them, the future custodians, to facets of the industry". Gros Islet Primary was the recipient of a cache of school supplies two years ago.
Chief Executive officer of the SLHTA Mr. Noorani Azeez showered gratitude on behalf of the Tourism Enhancement Fund, TEF, to the participants and the Run For Fun Cruise Tours family for generous donations of a cache' of School supplies for distribution to education causes in Saint Lucia. Mr. Azeez sighted a number of initiatives by the TEF to benefit the youth and the impact bestowed on the Education community.
Tourism Officer in the Ministry of Tourism Miss Samantha Charles expressed her departments appreciation of the event and the effort by Serenity Vacation to support cruise conversion. Cruise Conversion is tourism stakeholder program aimed at turning cruise-based tourism into stayover vacations.
Run For Fun Cruise director Craig Newton expressed his company's satisfaction with local effort at promoting the event and the generosity of his patrons in support of the local community. Mr. Newton highlighted the benevolence of the hundreds of participants who give with kindness and alacrity.
This year's event was sponsored by: The Bay Gardens Resorts, Windward & Leeward Brewery, The St Lucia Hospitality & Tourism Association, Rain Forest Sky Rides, New Heights Tours and Services, Kirk Elliott's Photography, Lanmen, Photography and Bel Jou Hotel. The event was also endorsed and heavily supported by the St Lucia Tourism Authority and The Ministry of Tourism. Organizers of the event are already planning a massive stratification of the event in 2021, with international interest already expressing interest in collaborating. A prize giving ceremony to honor student athletes of the Gros Islet Primary School is scheduled for Wednesday afternoon.