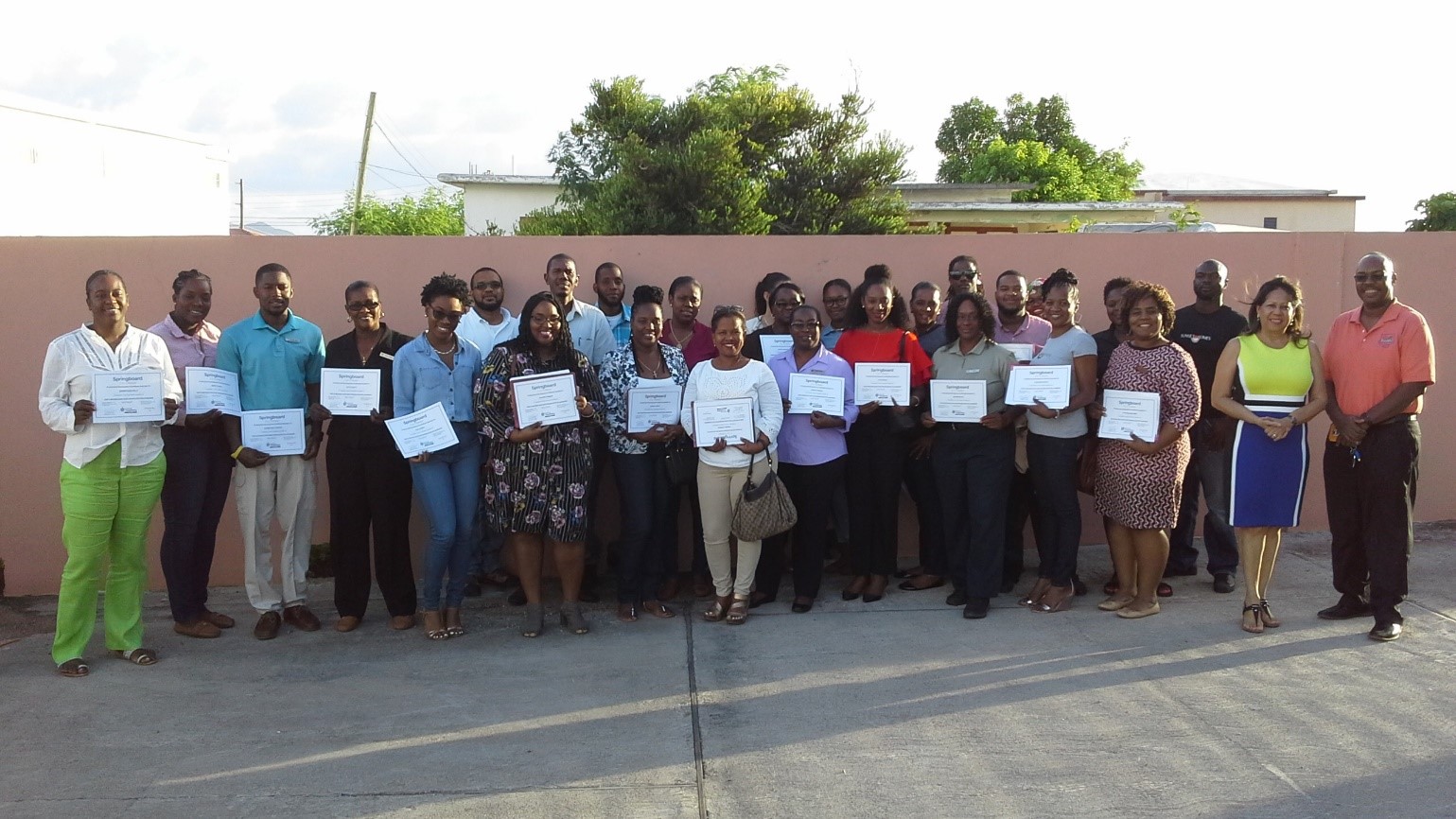 Springboard Caribbean, the strategic educational partner of the CHTA (Caribbean Hotel & Tourism Association) is delivering a range of professional development workshops to islands impacted by hurricanes Irma and Maria.  The workshops are designed to build employee capabilities and grow the capacity of hospitality businesses in hurricane impacted destinations through a range of training interventions to specifically address the needs of the destination.  Needs-based certificated training will be directed at supervisory/management and line-level employees in four destinations targeting employees of hotels which have recently opened or are scheduled to reopen in the coming months following closure due to the hurricanes.  
The training has been made possible with grant support from the Caribbean Hurricanes Recovery Fund, managed by the Tourism Cares organization in cooperation with the Caribbean Hotel and Tourism Association.
Workshops have already been delivered in St. Maarten/St. Martin and Anguilla and further workshops are scheduled during the last week of February 2019 in Puerto Rico and U.S Virgin Islands. The workshops will be offered through the National Hotel and Tourism Associations (NHTAs) in these islands and two workshops will be held in each destination. Available workshops include:
"How to Motivate your Team through Effective Leadership

". For Supervisors and Managers

"Natural Disaster Risk Assessment for the Hospitality Industry

" For Supervisors and Managers

"Food Hygiene, Sanitation Standards and HACCP for Food Handlers"

. For line-level employees

"Excellent Customer Service for Hospitality and Tourism"

. For line level employees
Workshops on offer may vary by destination and spaces are limited. Those interested in attending a workshop are encouraged to contact the Puerto Rico Hotel & Tourism Association or the US Virgin Islands Hotel & Tourism Association at the earliest opportunity.  Participants successfully completing the workshops will be awarded certificates.