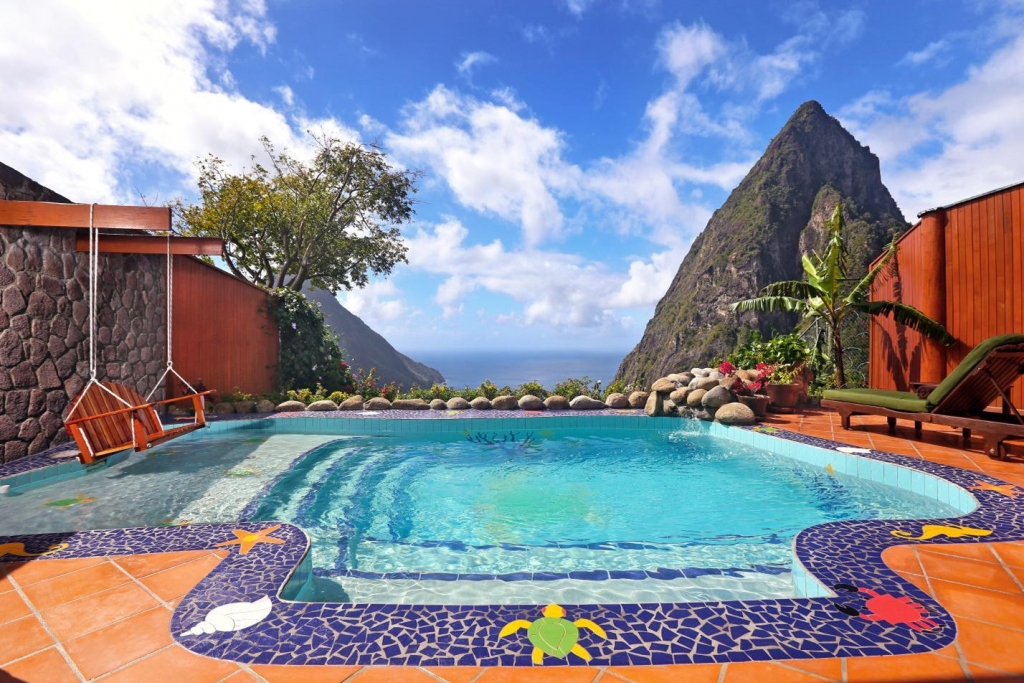 Do you know the answer to this question? What is the name of the only luxury "open air" resort overseeing the famous Pitons on the UNESCO World Heritage site?
Marcia Vernon did; she answered, "Ladera" and won a seven day holiday to the resort located in Soufriere, Saint Lucia. Ms Vernon, from London, was chosen live on stage at "In Celebration of My Sisters" (ICOMS), the popular entertainment show that brings thousands of women together during International Women's' Month in the UK. The show which is now in its 19th year was hosted by BBC TV's  Brenda Emmanus and UK/Caribbean TV Producer Delia Dolor. The star-studded line-up for this family-friendly show, featured the debut of the all-star Reggae Inspirational Choir founded by lovers rock queen Paulette Tajah, comedians Curtis Walker, Felicity Ethnic and "Dibi" and has received a message of thanks from Nelson Mandela for ICOMS' support and an appearance by US personality and TV host Iyanla Vanzant.
Hundreds of people transcended to The Dolor Factor UK stand at Fairfield Halls, Croydon, England to get the opportunity of winning the seven day holiday with butler service, staying at one of Ladera's new Paradise Ridge villas. Ladera Resort in St. Lucia is recognized as one of the best hotels luxury hotels in the world and best luxury hotel in St. Lucia according to the World Luxury Hotel Awards 2014 list.
Olivier Bottois, VP Operations said, "We are delighted to be represented at this prestigious event in the UK and we are looking forward to welcoming Ms Vernon and her partner to our "romantic paradise.""
Ms Vernon was elated and admitted to looking at pictures of Ladera at the stand and thinking, 'this looks like paradise!' "I am delighted, thrilled to have won such an amazing holiday. I never dreamt I would have won this stay at this fantastic hotel, it's a dream come true. Never in my wildest dreams did I think I'd win such an unbelievable prize. I want to experience the elegance and beauty of the Ladera resort and I am looking forward to soaking up the atmosphere and to be pampered by my own personal butler. Thank you Ladera!"
For more information contact Delia Dolor, Delia Dolor Media Relations, delia@ddmediarelations.com Tel +447956-338-751 or (758) 717-7979.
About Ladera
Ladera, located 1,100 feet above the Caribbean Sea directly between the Piton Mountains, was once one of Soufrière's oldest and most famous cocoa plantations and transformed in 1982 into the unique resort it is today. Taking full advantage of its natural surroundings, Ladera offers a distinctive design in guest accommodations with its "open wall" concept. The west side of all 37 suites and villas is left open to expose the breathtaking views while maintaining complete privacy. The suites are constructed of tropical hardwoods, stone and tile, furnished with 19th century French furniture or replicas, wicker and accessories crafted by local artisans. Ladera also offers a "platinum-level" experience with the addition of Paradise Ridge, a new collection of five suites and one villa blended into the northern edge of the property located 1,300 feet above the Caribbean Sea. All units are decorated with local artwork and feature magnificent views of the Piton Mountains and Caribbean Sea.