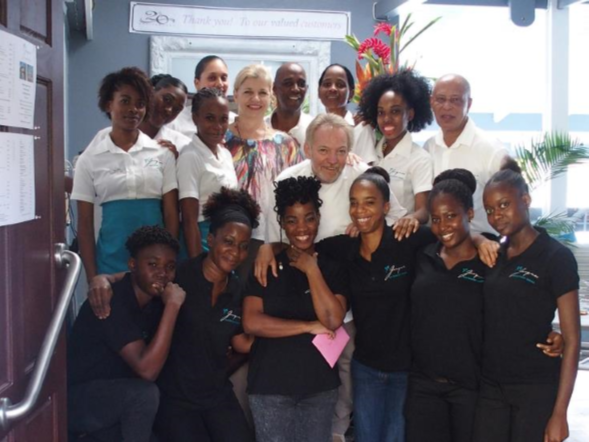 20 years ago on the 12th of  February 1999 Froggie Jack's (as it was known then) opened its doors for the first time in Ganter's Bay, Castries.
Now known as Jacques Waterfront Dining, the restaurant has recently re-located to the waterfront within the beautiful gardens of Harmony Suites Hotel in Rodney Bay.
Chef Jacques Rioux (originally from the Loire Valley in France) and his wife Cathy (originally from Nottingham in the UK) both come from a hotel background and had worked in the Europe, Middle East and Africa before coming to St Lucia to work at Anse Chastanet Hotel and Jalousie Hilton respectively.
Jacques Waterfront Dining is one of St. Lucia's popular restaurants, with a long-standing reputation for consistency in both the quality of the food and the service with which it is delivered, and this week Jacques and Cathy recognized 4 of their long-standing team members without whom they say they could not have established such a well-respected business.  " We have enjoyed some good times and been through some very difficult times and our team have been a wonderful support to us throughout." Cathy said.
Recognised for their outstanding service were, Cyril Leonce 20 years with the company in the capacity of barman, Hilary Antoine 17 years in the capacity of accountant, Lenna Harris 17 years in the capacity of waitress and Germaine St Brice 15 years in the capacity of chef.
Jacques added "We would like to take this opportunity to officially thank them for all their hard work and support, we look forward to working with them for many more years to come."
Excellence since 1999
Website address: www.jacquesrestaurant.com
E-mail address: cathy@jacquesrestaurant.com
Telephone number: 758-458-1900