(Helens Daughters)- Introduced as an initiative to develop a new market for Saint Lucia's female farmers to earn extra income, Helen's Daughters FarmHers Market has grown into a monthly event popular among hundreds of customers. Key among the organisation's goals is providing access to novel, high-value markets to its members. First hosted in June 2022, the market has found a home in the courtyard of the Alliance Francais in Pointe Seraphine on the final Saturday of each month. An average of twenty-five (25) female farmers use the market as an opportunity to support themselves and their families.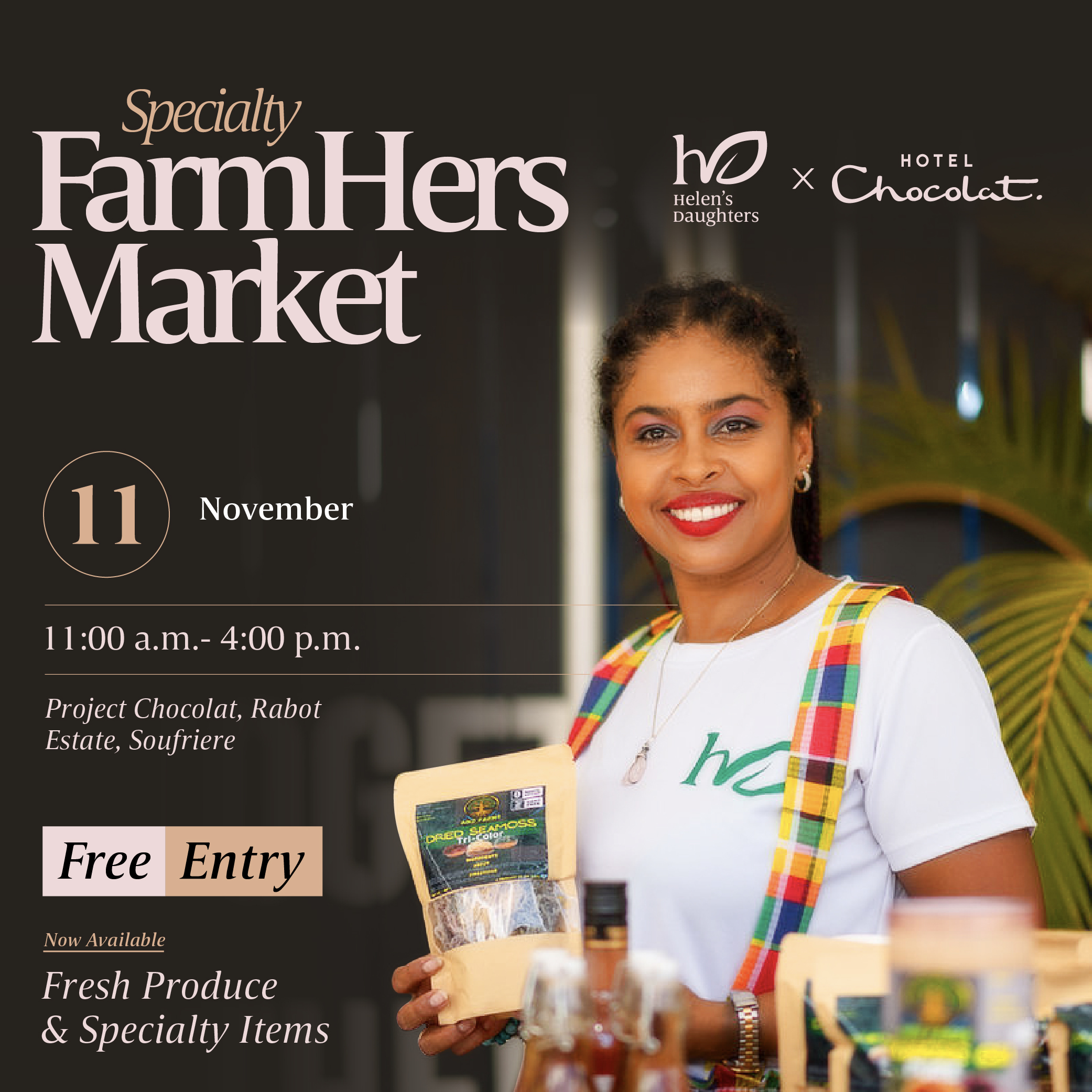 Now, thanks to a continued partnership with Hotel Chocolat, Helen's Daughters is adding another monthly market to its calendar of events, this time, in the island's south. Scheduled for the second Saturday of every month, people interested in supporting Saint Lucia's FarmHers can do so at Project Chocolat in Soufriere. Project Chocolat is the location of the Helen's Daughters and Hotel Chocolat Apprenticeship Farm. A FarmHers Market at the southern location was piloted in October 2023 with a variety of specialty items up for sale. Moving forward, fresh produce will also be available.
"At Helen's Daughters, we firmly believe that what grows together, goes together. That's why we're thrilled to build on the successes of our FarmHers Market alongside Hotel Chocolat and host our monthly specialty market on their property in Soufriere. It's the first step toward making this shopping experience more accessible to all Saint Lucians. Public-private partnerships like the one we enjoy with Hotel Chocolat are helping to fuel the development of women in Saint Lucia's agricultural space. We're inviting all who can to support our FarmHers this, and every second Saturday at Project Chocolat. It's where is do 90% of my monthly grocery shopping!," remarked Keithlin Caroo, Executive Director of Helen's Daughters.
Helen's Daughters enjoys a positive partnership with Hotel Chocolat. Produce grown on the on-site apprenticeship farm is purchased by the hotel for use in their kitchens. Additionally, the hotel regularly offers its premises to Helen's Daughters for training and member engagement activities. "Hotel Chocolat is proud to collaborate and support Helen's daughters. We hope that by bringing the groundbreaking FarmHer's market to Project Chocolat, we can provide the financial rewards needed to make this initiative truly sustainable for all," shared James Holah, Hotel Chocolat's Chief Operating Officer.
Helen's Daughters is encouraging Saint Lucians, particularly those living in the island's south, to support hardworking FarmHers on November 11 at Project Chocolat from 11 a.m. to 4 p.m. Entry into the venue is free. Available products include fresh produce, homemade confectionary, vegan snacks and breakfast items, teas, indoor plants, herbs, candles, and soaps, all at affordable prices.
Interested individuals can follow @helensdaughters on social media for regular updates.