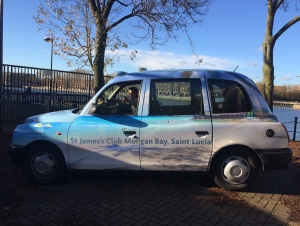 The Elite Island Resorts Group, a collection of beachfront properties in the Caribbean, has taken to the road to spread the word and raise awareness of  Saint Lucia and  the St James's Club Morgan Bay resort.  This marks another campaign in ongoing marketing efforts that underpin the group's support of the local economy and promotion of the destination. In partnership with the Saint Lucia Tourist Board, the resort group has put 20 Saint Lucia branded cabs on the streets of London for the next two years. Featuring an all over wrap around design with images of Saint Lucia and St. James's Club Morgan Bay, visibility for the campaign will be extremely high:
The 8.3 million London resident population will see the cabs as they drive around the Capital daily
The 1.8 million people a week that take taxis will have the opportunity to flag one of the cabs down and learn about Barbados and the resort.
100,000's of people outside the Capital will also see the taxis as the drivers, based in Hampshire, Essex, Kent and South London ( residents in these areas 7,036,00 people), travel in and out of London at the beginning and end of the work day.
After driving into London daily, the cabs will be based at major London taxi ranks including Paddington (Hub to Heathrow Express), Victoria (Hub to Gatwick Express) and Kings Cross stations (Hub for Eurostar), ideal for travellers into the city from areas of the UK and other countries.
The drivers, dressed in Elite Island Resorts Polo Shirts and fleeces to match the cabs, will be visiting Saint Lucia and the resort, returning to share their first hand Island experiences as they drive their clients around the city.
The tip up seats will display great quarterly refreshed Saint Lucia deals featuring key tour operator partners. British Airways Holidays will offer "Tip Up Seat Deals" to Elite Island Resorts properties as the first partner from November 2014 – February 2015. Elite Island Taxi receipts also feature details St James's Club Morgan Bay brochures are also available in the cabs.
Rob Barrett, CEO, Elite Island Resorts, said: " Elite Island Resorts Group is delighted to support and partner with our friends at the Saint Lucia Tourist Board on this high profile campaign that will literally "drive" awareness to the front of mind of UK travellers as they go about their daily lives.   Our resort on the island caters to all travellers from families and couples to honeymooners and adventure seekers.  The St James's Club Morgan Bay is loved both by the island tourism community and by our new and returning guests, so it's great to spread the word even further. Offering great value deals with our  tour operator partners makes our all inclusive experiences even easier to book, so I'm equally excited to be working so closely with them too"
For further information, high res images of cabs St James's Club Morgan Bay:
Karen Tippett – TippettPR Limited. karen@tippettpr.com
About Elite Island Resorts Elite Island Resorts is a collection of beachfront resorts in the Caribbean well-loved by the British traveller and sold through many tour operators including BA, Virgin Holidays, Kuoni, Thomas Cook and Caribtours among others. Resorts include: St James's Club & Villas, The Verandah Resort & Spa and Galley Bay Resort & Spa all in Antigua; St James's Club Morgan Bay Beach Resort in St Lucia; Long Bay Beach Resort & Villas in Tortola; Palm Island Resort in St Vincent and the Grenadines and The Club Barbados Resort. For more information visit www.eliteislandresorts.co.uk