Caribbean Student Environmental Alliance Inc.
Castries, Saint Lucia
DENNERY STUDENTS PARTNER WITH STUDENTS FROM TENNESSEE TO RAISE AWARENESS FOR WORLD OCEANS DAY
Caribbean SEA Inc. (the Caribbean Students Environmental Alliance), founded in St Lucia 11 years ago, is still inspiring St Lucian kids (from primary school to college) to learn about their environment and take responsibility for their future. The latest project, in recognition of World Oceans Day Monday June 8th, was a visit to St Lucia by 14 young men and two teachers from the McCallie school in Chatanooga, Tennessee. This group volunteered one week of their summer vacation to teach 14 members of Dennery Primary School's Lorax (environmental) Club how to swim and snorkel.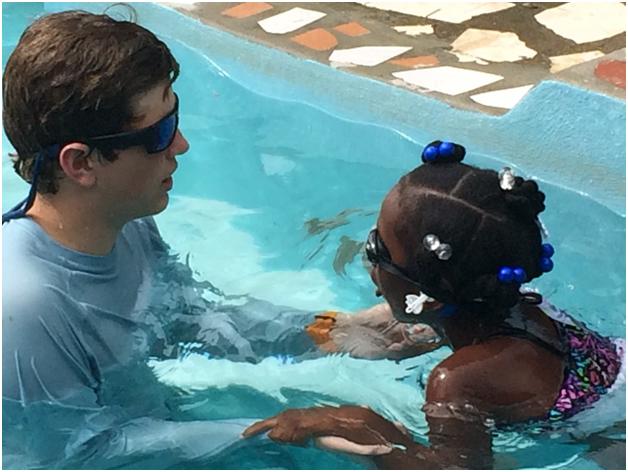 Each Lorax member was paired with one McCallie volunteer and classes were supervised by the two teachers, one of whom is a certified American swimming coach and assisted by Caribbean SEA staff and senior members.
JJs Paradise pool in Marigot was the venue for the first two days, where basic skills like blowing bubbles, bobbing, floating and treading water were taught. On day 3 the classes moved to the Marigot beach where the Dennery children continued to practise what they had learned in the first session. During the second session they were introduced to snorkelling and were outfitted with masks, snorkels, fins and life vests, ready to mingle with underwater marine life for the first time. The Dennery students were amazed and loved being able to observe a variety of reef fish, sea urchins and other creatures in their natural habitat for the first time.
MEETING THE FISH FOR THE FIRST TIME
During the first two days at Marigot, they were also taught about one very important marine habitat, the mangroves. Marigot is the largest mangrove forest on the west coast, and the children were able to explore the red mangroves where they met crabs, birds and lots of juvenile fish. The whole group was then ready to head down to Scorpion Island and snorkeled over the seagrass bed and through the mangroves on the edge of this tiny unspoilt island. They saw first-hand how the baby fish seek shelter among the mangrove roots and were excited to identify many different fish species.  They also got to learn about the Saint Lucia National Trust's efforts to conserve the Saint Lucia Whiptail, one of our endemic lizards.
GRADUATION DAY FOR THE LORAX CLUB MEMBERS
On the final day, the group headed over to Anse Cochon where they were all able to snorkel together and learn to identify even more species of fish and coral as well as black sea urchins, flamingo tongues on sea fans and even a sea horse. The Dennery Lorax students were presented with certificates of participation in the Kids4Coral program (another Caribbean SEA initiative) and they exchanged gifts with the McCallie students.
CARIBBEAN SEA (The Caribbean Students' Environmental Alliance Inc.) INSPIRES A NEW GENERATION OF ECO GUARDIANS IN ST LUCIA
Mary Beth Sutton, founder of Caribbean SEA, thanked the St Lucian businesses whose support contributed to the success of this program: JJs Paradise, Mango Beach Inn, Eastern Caribbean Diving, Ti Kaye Beach Resort and the Marigot Beach Roots Bar. She also expressed heartfelt gratitude to The McCallie School students, teachers and parents whose contribution enabled 14 students from Dennery to learn a vital life skill and participate in this program. 'And finally,' said Mary Beth, I want to thank the Lorax Club especially their leader Mrs. Valerie Constantine for participating in the program.'
Nadia Cazaubon, Caribbean SEA's on-island Programme Director, also added that the organization, which has now taught over 100 students in Saint Lucia how to snorkel, is currently being funded by one of the world's most prestigious seaweed based beauty products 'La Mer' and sponsored by the Soufriere Regional Development Foundation.
Mary Beth H Sutton
marybeth@caribbean-sea.org
Executive Director
Caribbean SEA and TenneSEA (Student Environmental Alliance)
Kids 4 Clean Water
423-413-0471
809 Kentucky Avenue
Signal Mountain, TN 37377 USA