(Saint Lucia Tourism Authority)- The Saint Lucia Tourism Authority is thrilled that the Republic Bank Caribbean Premier League (CPL) is making a triumphant return to the Daren Sammy Cricket Ground in Saint Lucia for athird consecutive year. The much-awaited matches are scheduled to kick off from August 16th to 20th, during the 2023 season.
Fans eagerly await the arrival of players and support team members, as we once again unite in the spirit of cricket and celebrate the 11th year of the CPL. Get ready to experience the pulsating energy of the Caribbean's Biggest Party in Sport, surrounded by the vibrant and cultural atmosphere that defines this thrilling event.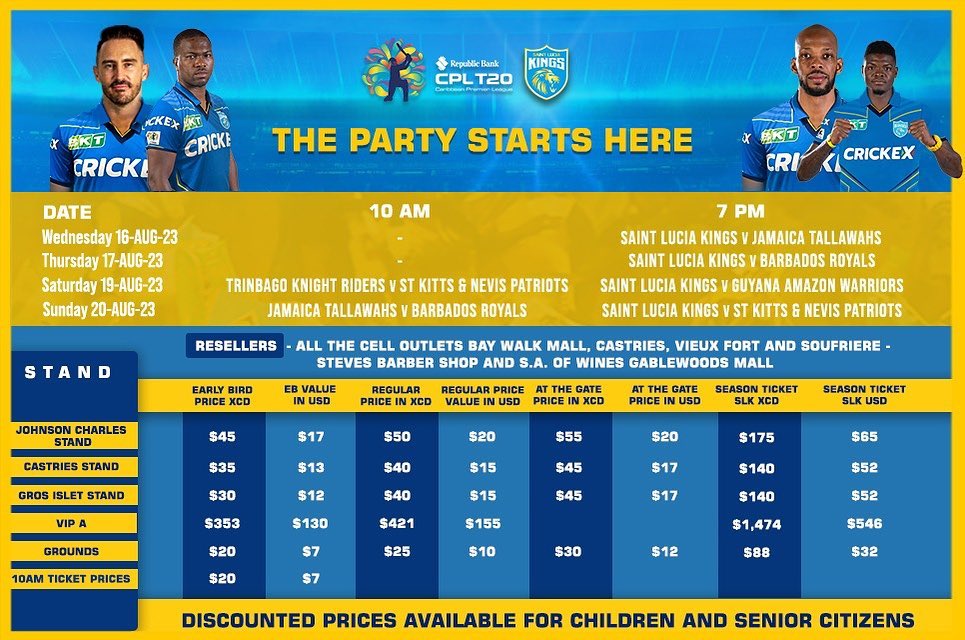 Well-established airlines such as British Airways from Guyana, Grenada, and Tobago, Caribbean Airlines from Barbados, and Trinidad, as well as Inter Caribbean and Air Antilles from various locations within the region, have greatly enhanced the travel options and connectivity to Saint Lucia. This enhanced accessibility allows passionate supporters the opportunity to be present in Saint Lucia and witness their teams competing for the prestigious CPL championship.
Hon. Dr. Ernest Hilaire, Minister of Tourism, Investment, Creative Industries, Culture, and Information, expressed his excitement, stating
"Our Saint Lucian fans can't wait to showcase their brilliant sportsmanship and extend their warm hospitality to all spectators and visitors. We cordially invite you not only so revel in the games but also to immerse yourself in the heart of our communities connect with our friendly residents, and truly experience the essence of our remarkable destination. Take the opportunity to explore our thrilling adventure offerings and savor the unique flavors of Saint Lucia, allowing the land to leave an unforgettable mark on your soul."
"The Saint Lucia Kings, the home team, are eager to defend their turf with the likes of Johnson Charles, Kimani Melius, Shadrack Descarte, and Mc Kenny Clarke, under the expert guidance of Saint Lucian-born coach Daren Sammy."
The team is determined to capture the coveted title, currently held by the Jamaica Tallawahs.
"It always a pleasure to be in the amazing Saint Lucia, one of the best places in the world to visit. We are delighted that it will be Saint Lucia and the Daren Sammy Cricket Ground which will be where we get the Biggest Party in Sport started and we are certain the local fans will come out to sport their team. We are also looking forward to working with SLTA to highlight what this wonderful country has to offer, both on our broadcast and by creating fantastic content that can be used year round Let the party begin!" – Pete Russell CEO, Republic Bank Caribbean Premier League.
Fixtures have been set, with games starting at 10 am, and 7 pm on match days.
Here is the exciting lineup:
Wednesday, August 16; Saint Lucia Kings v Jamaica Tallawahs (7 pm)
Thursday, August 17: Saint Lucia Kings v Barbados Royals (7 pm)
Saturday, August 19:Trinbago Knight Riders St Kitts & Nevis Patriots (10 am) and Saint Lucia Kings v Guyana Amazon Warriors (7 pm)
Sunday, August 20 Jamaica Tallawahs v Barbados Royals (10 am) Saint Lucia Kings St Kitts & Nevis Patriots (7 pm)
Tickets are available at The Cell Outlets, Steve's Barbershop on Mary Ann Street, Castries, S.A. of Wines at Gablewoods Mall, and The Box Office at the Daren Sammy Cricket Ground.