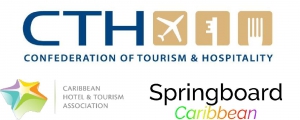 In keeping with our strategic objective to "Develop our People" the CHTA is pleased to announce the launch of the Certificate in Management & Leadership for Business & Hospitality with Springboard Caribbean, our strategic educational partner.
The qualification is accredited by the Confederation of Tourism & Hospitality (CTH) and has been designed to help existing and potential supervisors and managers gain formal training and an internationally recognized hospitality management qualification. The CTH is the UK's leading specialist professional awarding body for qualifications in the hospitality and tourism sector and has strong links with the global hospitality industry. This includes relationships and endorsements from organizations like Virgin Atlantic Airways, GTMC, Star Alliance, Marriot Hotels Caribbean, Radisson Edwardian, Sheraton Hotels and Intercontinental Hotels Group. Its management qualifications are recognized and endorsed by over 25 British and international universities.
The need for this qualification was born out of a study to identify the knowledge and skills that if missing, would negatively impact Caribbean hospitality managers from making a more valuable contribution to the business whilst at the same time, limit their opportunity for career progression.
The qualification covers six standalone units, including "Developing your Leadership Potential" and "Understanding Key Financial Statements." A certificate is awarded for each successfully completed unit delivered through practical and highly focused one-day workshops. This allows managers and supervisors to take control of their own professional development, transfer learning back to the workplace, and become formally qualified.
The qualification is accessible, affordable and flexible, allowing participants to complete the fully accredited qualification in a three to six-month period.
Springboard Caribbean, an approved CTH center, will deliver this certificate program across the Caribbean in association with learners, client properties and NHTAs. This program will commence in September 2018 and properties and potential learners are encouraged to enroll at the earliest opportunity.
Please use the following links to obtain details of the study or to register your interest in the certificate program: