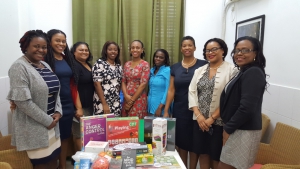 The National Mental Wellness Centre is expected to enhance its existing clinical support services, following the recent official handover ceremony of tools and furniture for a group therapy room.
Representative from the Office of the Chief Medical Officer Dr. Michelle Francois expressed gratitude to the Body Holiday Saint Lucia for the generous contribution of the group therapy room and their commitment to mental health.
"The Department of Health & Wellness is therefore truly heartened to receive this donation and extends its sincere appreciation to the Body Holiday. Your contribution here will go a very long way to creating a more comfortable and welcoming atmosphere to the users of this facility. Your partnership in this venture demonstrates a level of generosity and commitment to mental health in Saint Lucia."
Corporate Social Responsibility Officer of Sun Swept Resort, Jacqueline Scott, emphasized on mental health being a priority for Body Holiday Saint Lucia and the need to fill in the gaps where necessary.
"Mental wellness is one of our priority areas… like I said, we are passionate about it. Why, Mental Wellness, because we believe that, as the popular ad said, "The mind is a terrible thing to waste". And so, we are zoning in on the health of the mind. We are wellness resorts, both Rendezvous and Body Holiday, where wellness and wellbeing are huge to us.  We believe in wellness of the entire being, not just the body, but your mind, your spirituality and so on." 
Clinical Psychologist at the National Mental Wellness Centre Mathelda Demar-Previlus spoke on the importance of the group therapy room which will assist with improving the lives of clients at the wellness centre.
"The objective of the group therapy room is to create a safe space for clients with similar challenges to grow social support from each other as well as to share the experiences and to develop learning skills as well as coping skills. Our clients experience a varied of mental illnesses, social and interpersonal challenges thus group therapy will be of great benefit to them."
The Body Holiday Saint Lucia financed the furniture, tools and equipment for the group therapy room to the tune of approximately nine thousand Eastern Caribbean dollars ($9000).