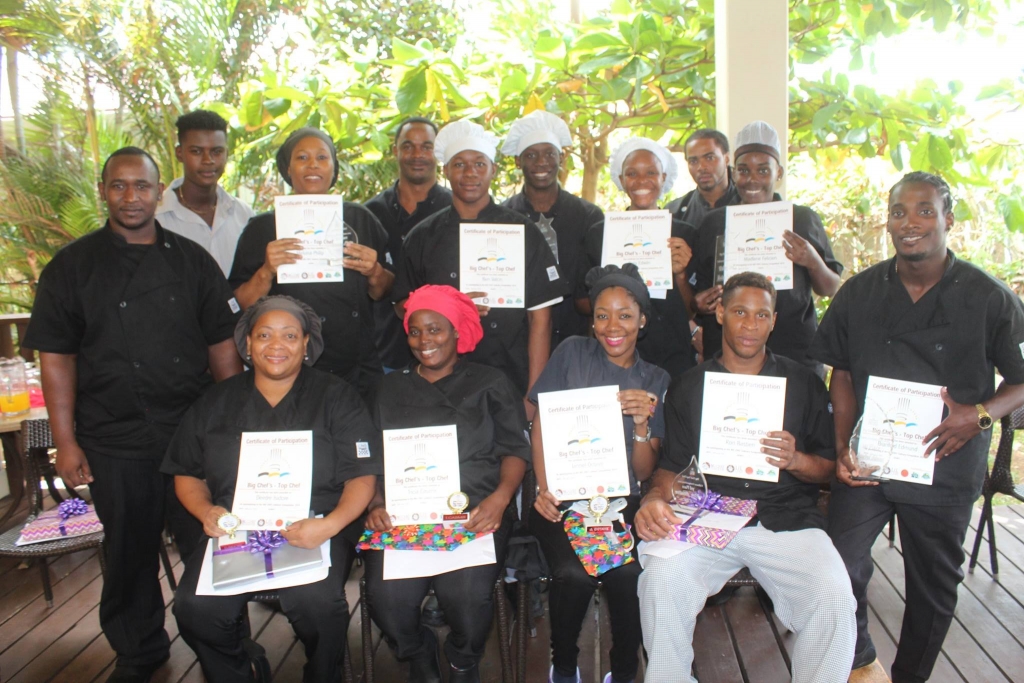 The Big Chef's Top Chef Culinary Competition was held for its second year on Tuesday June 30th 2015. Eleven chefs from Big Chef Steakhouse and Tapas on the Bay (sister restaurant) participated in what was deemed a huge success.  The event organized by Executive Chef Odeen Martin, with support from owners Rosie and Marc Joinville was described as an intense training and assessment activity coupled with a modern and creative spin which proved rather exciting for the culinary team.
Observing clearly stated cooking rules, the chefs were given a tough challenge of preparing two servings each of an Appetizer and an Entree within 1 ¾ hours. In the style of many popular TV cooking competitions, the chefs were given a mystery basket of eight items; each including a whole chicken, fresh whole snapper and different gourmet ingredients such as fingerling potatoes, ginger beer, crawfish and cream cheese stuffed pimentos. A full pantry and a community table of vegetables, fruits and herbs were also made available.
Competition was fierce with the chefs displaying their professional skill and cooking technique tied to a race against the clock. Chefs would also be judged on the use of appropriate cooking methods, knowledge of culinary skills, kitchen hygiene and food presentation amongst other things. Chefs were also assigned a mentor to assist in preparation and to provide support throughout the competition. The mentors assigned were senior chefs Trevan Laurent, Adrian Sylvester and Glen Henry.
The results of Big Chef's Top Chef Culinary Competition were as follows:
Branford Edmund – 1st Prize (also placed 1st in 2014)
Adrian Louis – 2nd Prize (also 2014 Rising Star)
Melvina Philip and Ron Bastien – 3rd Prize
The Award for Rising Star was presented to Madlene Felicien who started as a Trainee Cook with Tapas on the Bay in November 2014.
Each competitor received a certificate of participation and a trophy along with gifts of chef's knives, cook books, gift vouchers for dinners and day passes for hotels.
The Big Chef's Top Chef Culinary Competition was sponsored by CPJ Ltd and Trans Caribbean 2000 Ltd. Sales Manager Anthia Monplaisir of CPJ Ltd was one of the returning judges, along with Chef Jean Claude Amedée and the "Original Big Chef", Peter Kouly. Other judges were Genavie Pierre, Chef Odeen Martin, Chef Larry Monrose and Big Chef Steakhouse owners, Rosie and Marc Joinville.