On the weekend November 25-27 Rodney Bay, Saint Lucia was vibrant with sails of all colours racing in the 2022 Mango Bowl Regatta hosted by the St. Lucia Yacht Club. Saturday's perfect sailing weather brought the regatta racing to a start with the J24 and Surprise classes finishing 6 races for the day and the Racing class finishing 3 longer races. Three additional races on Sunday completed the series with overall excellent racing conditions, stiff competition and great comradery on and off the water.
The Mango Bowl Regatta is Saint Lucia's premiere sailing regatta and has brought sailors to our island and our waters for the three day event at the end of November for the past 10 years. Celebrating its 10th anniversary were sailors from Trinidad, Grenada, Barbados, Martinique and Saint Lucia who, over the two days of racing, competed for the coveted mango bowl and rum prizes.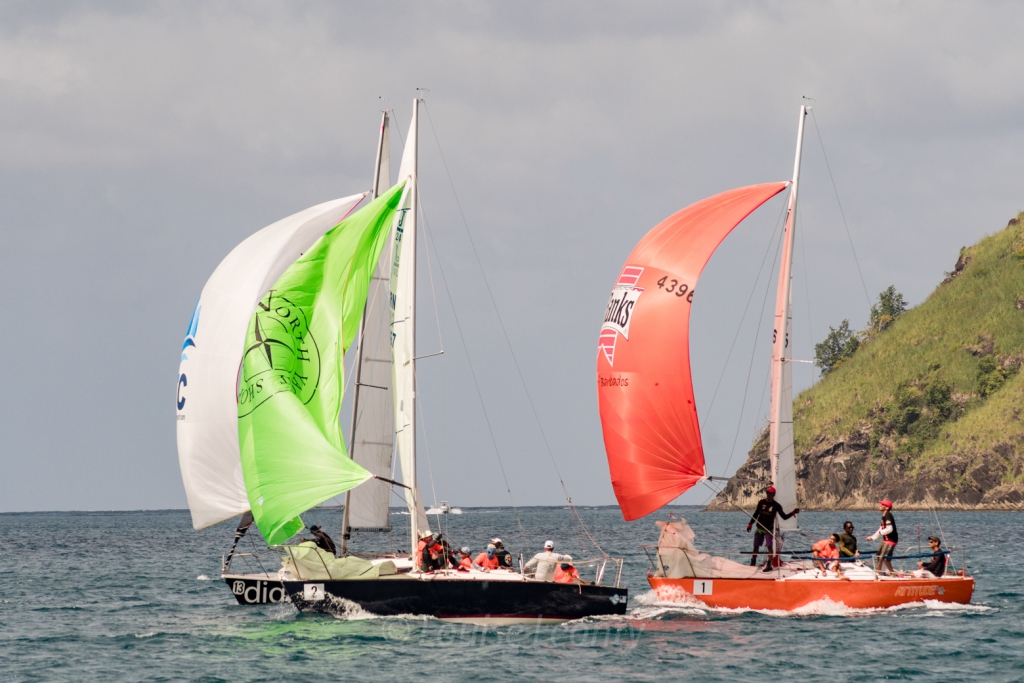 This year 17 boats were entered to race; in the J24 class – 8, French Surprise class – 6, Racing class – 3. Sailors were especially excited to be racing again in Saint Lucia after a few dry years due to the global pandemic. Sponsor of the regatta and director of Dive Saint Lucia, Nick Mobley, said "(it was) …the best Mango Bowl yet!"
Gold sponsor, IGY Rodney Bay Marina's manager, Sean Devaux, congratulated the sailors and organizers for a superb regatta, one that IGY is committed to supporting for the next 10 years!
Overall Results:
J24 Class
Attitude, Saint Lucia, skippered by Frederic Sweeney
Die Hard, Grenada, skippered by Robbie Yearwood
Bunga Bunga , Barbados skippered by Charlie Gloumeau
Surprise Class
ADSL, Martinique, skippered by Francois Chave
GFA Caraibes-La Morigane, Martinique, skippered by Tristan Marmousez
Aquanet Piscine, Martinique, skippered by Stanley Dormoy
Racing Class
Sang Neuf, Martinique, skippered by Jean Francois Terrien
Perseverare Diabolicum, Martinique, skippered by Jean Michel Figueres
Objectif de Developpement Durable, Martinique, skippered by Denis Etienne
Combined J24/Surprise Class
ADSL, Martinique, Francois Chave
Bunga Bunga, Barbados, skippered by Charlie Gloumeau
Attitude, Saint Lucia, skippered by Frederic Sweeney
The St. Lucia Yacht Club, regatta organizers and sailors of the 2022 Mango Bowl Regatta would like to thank the sponsors who supported the 2022 Mango Bowl Regatta:
IGY Rodney Bay Marina
Dive Saint Lucia
Forest Springs Ltd
Tropical Shipping Ltd.
Heineken Saint Lucia
Saint Lucia Distillers
Cariquisine
Sea Spray Cruises
Johnsons Hardware
Café Ole
Scribble Design
Caribcation
Island Water World
Bay Gardens Beach Resort