Ti Kaye Resort & Spa is proud to recognize Ms. Flavia Henry from our housekeeping department.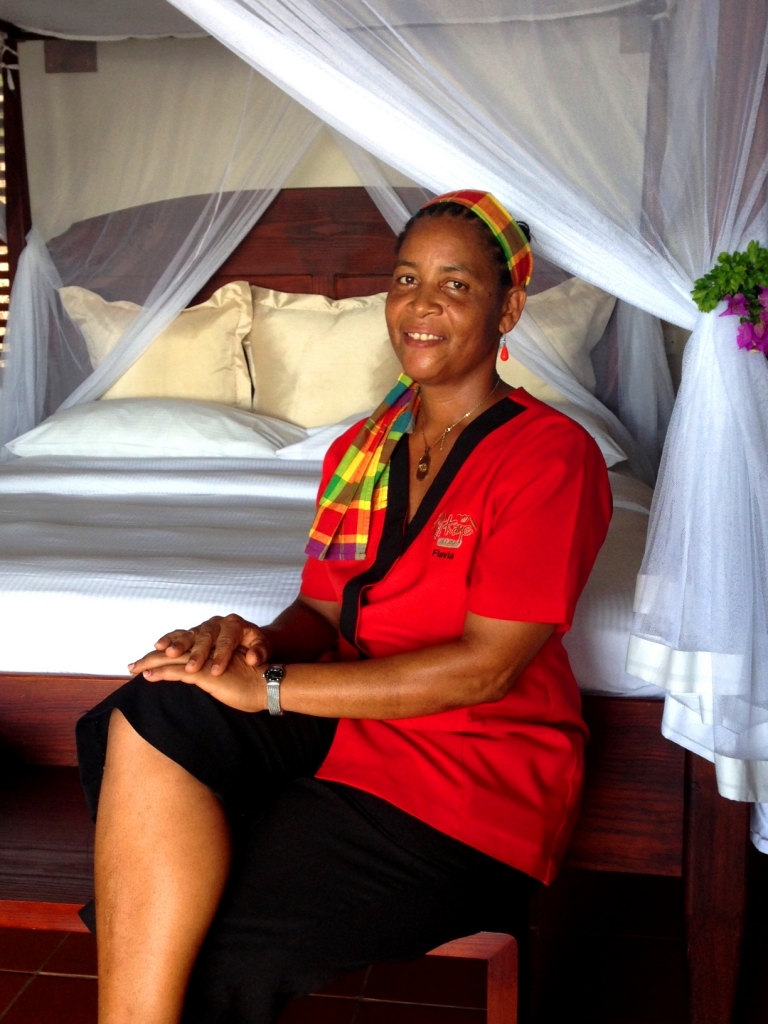 Ms. Henry continues to exemplify team work and provide the highest quality of service delivery when conducting her work tasks. We acknowledge her loyalty to Ti Kaye having worked with the company for over ten years.  Ms. Henry is a hard worker and has exceeded expectations with regards to her duties and responsibilities by volunteering on environmental projects at the resort and lending a hand in other departments when necessary.  Her dedication to her work has not gone unnoticed as she has been recently awarded a promotion to supervisor.  Her work ethic is one to be praised and admired as she continues to go beyond and above to ensure 100% guest satisfaction.
We encourage her to keep up the great work and continue to strive for excellence.
"Good Day ! Sea Spray Cruises, how can I help!?"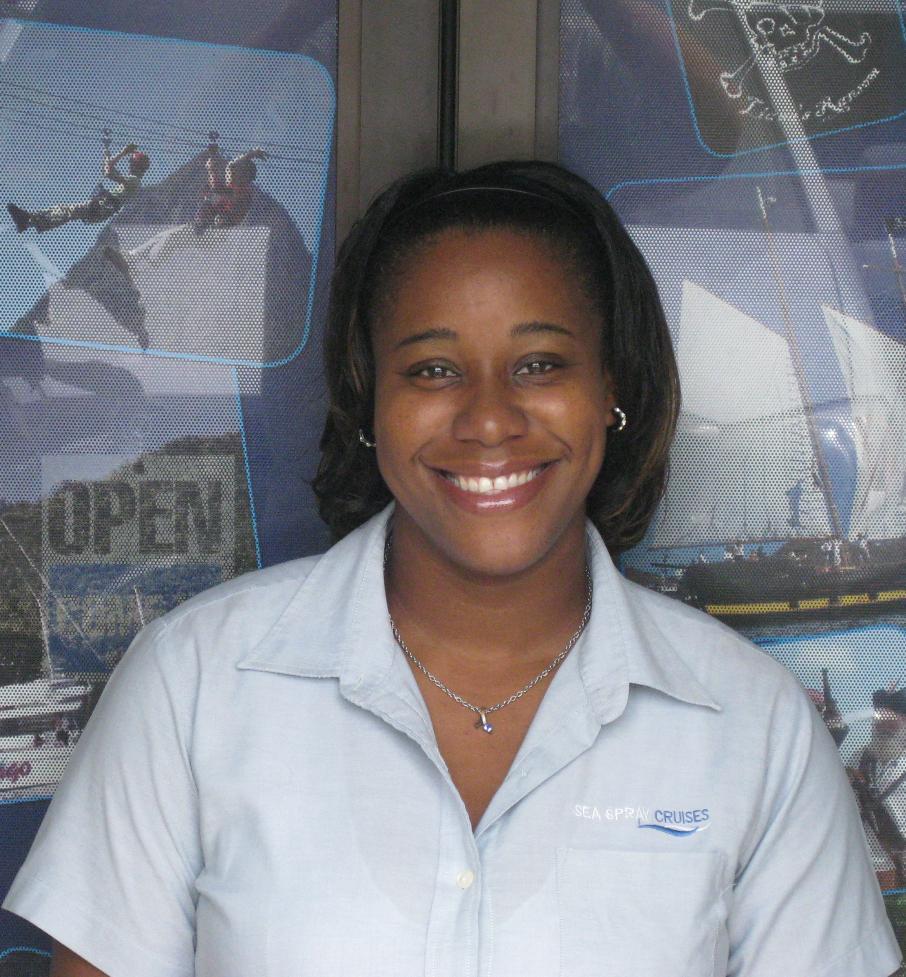 The consistency of diction, dedication and determination behind these words would make anyone think it was a recording.  It's not! The person behind the voice is none other than Ms. Vanesta Clifford, also known as Tanya. Tanya was a name she received when a young family friend could not pronounce Vanesta. The family friend decided to call Vanesta by her own name, Tanya.  As a result it stuck throughout her life and today, thirty three years old and some sixteen years in the tourism industry, Tanya, is the name and personality of the marine hospitality sector.
Tanya first started working in the Tourism industry onboard the endless summer cruises for the first four years of her career. After taking a great liking to the sea, sailing, as well as playing host/tour guide to hundreds of guests per year she decided it was time to move on. Moving on was not hard since her hard work, discipline and passion to work spoke volumes. In 2000 Sea Spray Cruises was happy to welcome Ms. Vanesta Clifford to the team.  As she continued to excel on board, she also pushed herself to learn more about navigation and captaining vessels, namely Mango Tango. After four years of being on the water with Sea Spray Cruises, Tanya moved into the office to become the Purchasing and Reservations Manager of Sea Spray Cruises. Her working relation with tour reps, guides and captains alike is a major part of our continued survival.   For this reason alone and many others we nominate Ms. Vanesta Clifford as our outstanding staff member.
Sandals Resorts International pays tribute to its staff every year by hosting what is called "Sandals Prestige Awards".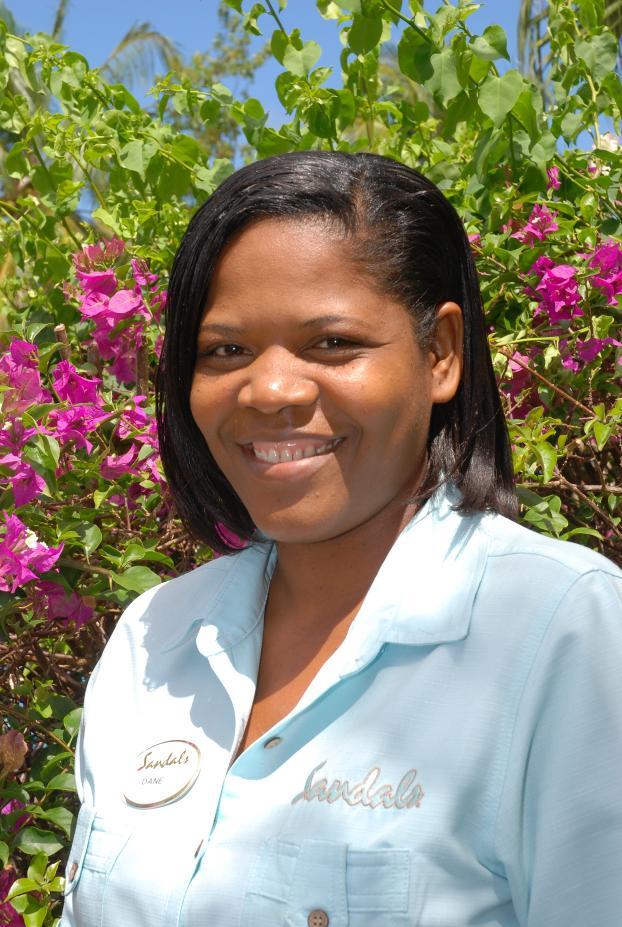 This year was no different when a number of outstanding staff members were awarded for their dedication, commitment and hard work. This year, Mrs. Den Sosia Charles secured the award for "Team Member of the Year" which is the Ultimate Award at the establishment. Mrs. Charles had this to say about her job;
"A FEW SENTENCES ABOUT WHAT I DO- I plan and execute flawless, enjoyable and romantic wedding experiences for our couples. It is also my duty to make the bride happy by relieving her of all the small details and fulfilling her dream Wedding."
In addition, she says that she is happy and proud to work for Sandals Resorts. Every big or small thing that she does for a wedding couple, she knows that she is helping someone. She also says that she listens to many different brides, similar, but yet each one unique.  Nonetheless, she tries to be different in making their dreams come true.
Mrs. Den Sosia Charles has been working with Sandals for the past fourteen (14) years. She spent six (6) years working with the food and beverage department as a restaurant server, and then moved over to the accounts department as a receiving clerk where she spent three (3) months. Since then she has been employed as a wedding consultant and she enjoys it very much.
The Saint Lucia Hotel and Tourism Association acknowledges and congratulates Mrs. Den Sosia Charles on acquiring the "Team Member of the Year Award" for Sandals Halcyon Beach. The SLHTA also encourages her to keep up the outstanding work that she started some fourteen years ago and to continue striving for excellence.
Ms. Crescentia Charles – Restaurant Hostess Smugglers Cove Resort & Spa
Miss Crescentia Charles affectionately known as "Chrissy" is famous for her bubbly personality warm and welcoming smile at the Waterside Restaurant. Chrissy has been working within the hospitality industry for approximately 13 years; out of which, she has been employed with the Smugglers Cove Resort & Spa for the past four years as a Restaurant Hostess.
Chrissy is constantly being mentioned on Trip advisor for her welcoming personally and her ability to go above and beyond the call of duty to please our discerning customers. When asked "how do you do it?" She responds with a smile and says "I love what I do!"
Aletha William is one of our dedicated waiters.  She has been with the Ti Kaye for 4 years and has proven to be a hard worker and team player.  She has met the criteria (for employee of the month)
and has displayed an exemplary customer service to not only Ti Kaye guest but to her fellow team members, supervisors, and managers. With a wonderful spirit and charming personality it is a pleasure to work with Aletha.  Ti Kaye's guest continue to recognize her excellent service delivery and make mention of her in the guest comment rating cards upon check out.
Ti Kaye's criteria in choosing employee of the month consist of the following:
Positive and polite attitude to guests, all co workers, supervisors and management
Punctuality and perfect attendance for the month
Adhering to company SOP
Being a team worker / team player
Being a problem solver/providing new and innovative ideas for improving the resort and assisting your co-workers
Being a role model and presenting yourself well
Completing your normal day to day duties and responsibilities, without being reminded to do so by Supervisors and HODs.
Please note comment cards are a bonus for front of house employees if all the other criteria's are met!
Meet Hilery Gabriel and Chris Canchon the two are our employees for the "Beyond the call of duty Award" for the month of July, 2015.
They both work in the maintenance departments as phenomenal painters. These two employees are the emblem of team work; they work tirelessly together to get any job completed to the highest of standards. For the month of July the twin combination of Hilery and Chris made all of us reflect on how much one can achieve when we work together as a team.
They have been nicknamed "Yin and Yang" as they have proven to be quite inseparable. During the month of July they worked tirelessly to help improve the visual perception of the guest at the resort placing their personal lives aside for the betterment of the organization.
For the month of July, the maintenance department was faced with a few staffing challenges. While they strived to maintain the guest satisfaction, Hilery and Chris roused to every opportunity that was presented to them:
They worked long hours at very short notice
They stayed back on many occasions to complete guest rooms even when not asked too.
They were available to lend support while the team worked to complete the refurbishment of the breakfast buffet at the resort.
They were there when we were struggling to get persons to assist with tidying up of the maintenance yard.
They were there when assistance was needed with the clearing of a new container of goods that we received.
For the month of July these employees made us really proud by going beyond the call of duty to assist in completing tasks that were assigned to them as well as taking the initiative to assist with tasks that were not assigned to them.
We are very proud of Hilery and Chris for their continued team effort in completing their tasks diligently.
Cheryl Gustave, a graduate from the St. Lucia Hotel Trades at the Morne Technical College (Sir Arthur Lewis Community College) Cheryl joined Cunard Hotel La Toc in December of 1977 as a
dinning room hostess. With her enthusiasm and determination to get ahead she has worked in various departments: as telephone operator, receptionist /cashier, secretary to the financial controller, receivables clerk.''
In November 1989, Cheryl was promoted to the capacity of Credit Manager a post she held until the sale to Sandals in 1992.
At the end of her tenure at Cunard La Toc and Suites, Cheryl decided to spend quality time with her two Kids assisting her son who had just entered St. Mary's college and preparing her daughter for the common entrance.  The time spent with her kids has proven to have been worthwhile, and they have both been successful at college and her son has just completed his Masters with Arthur Lok Jack graduate school of business MBA Executive. Her daughter holds a BA (Hons) Human Resource Management and she was awarded a scholarship from the Ministry of Foreign Affairs (MOFA) Taiwan to pursue her MSc Tourism Management.
In the Year 1995, Cheryl started her tenure at the Bay Gardens Hotel in the capacity of Front Desk /Reservation clerk within a few months of joining the Bay Gardens Hotel Cheryl was promoted to Front Desk/Assistant General Manager this position Cheryl held until December 2000.
In 1996/1997 Cheryl was awarded employee of the year at the Par Excellence award
In 2001 Cheryl was also awarded Manager of the Year re the Par Excellence award.
In December 2001-2006 , Cheryl  moved  over to  the Ginger Lily Hotel an eleven room boutique hotel as the General Manager , where within the opening  of this small property there were a number of repeat clientele under her skillful  leadership . Ginger Lily also won within the second year of operations Gold award from an International organization for quality service Ginger Lily being the only small from the Caribbean Ginger Lily also received  silver award from Virgin Holidays  for a well rounded small hotel
In March of 2007, Cheryl was contracted by the Downtown Hotel in Soufriere to assisting in the rebranding and ensuring the presence of this small hotel, the result has been a success story.
June 1st 2007 would see Cheryl returning home to the Bay Gardens family; Cheryl is presently employed as the Front Desk Manager/Assistant Executive Manager/Resident /Operations Manager at the Bay Gardens Beach Resort and Spa.