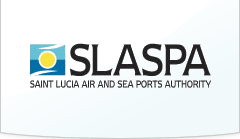 Company Description: The Saint Lucia Air And Sea Ports Authority (SLASPA) was established by an Act of Parliament in 1983, it is responsible for running the island's two principal seaports,Castries and Vieux Fort, and the George FL Charles and Hewanorra International Airports, as well as the smaller points of entry: Soufriere, Marigot and Rodney Bay Marina.
Operating from modern headquarters in Castries, SLASPA was created out of the merger of the St Lucia Ports Authority with the Airports Division of the Ministry of Communications and Works. This merger has created a unique position for the island by providing avenues to generate initiatives to maximize the assets held in its name and offer value-added services to its clientele.
The organization is managed by a well-qualified team headed by a General Manager who reports to a Council appointed by the Government. Its mandate is defined as the provision of coordinated and integrated systems of airports and seaports.
SLASPA also has one subsidiary company, St. Lucia Marine Terminals Ltd which was formed in 1994 and is responsible for the management of the port of Vieux Fort located in the south of the Island.
Under Shipping Act No. 11, 1994 SLASPA established and houses a Maritime Affairs Unit, for the purpose of the licensing of ships, matters relating to the safety of crew at sea and for matters incidental thereto. Consequently, it is charged with ensuring the highest quality of services at its air and sea gateways, and as a result continually seeks ways to enhance infrastructure and human resources to meet current and forecasted demands.
SLASPA also works closely with the St Lucia Tourist Board and the Saint Lucia Hotel and Tourism Association Inc to mount effective marketing campaigns for the island of St. Lucia.
Telephone: (758) 457 6100
Fax: (758) 457 6109
Email: info@slaspa.com
Website: www.slaspa.com